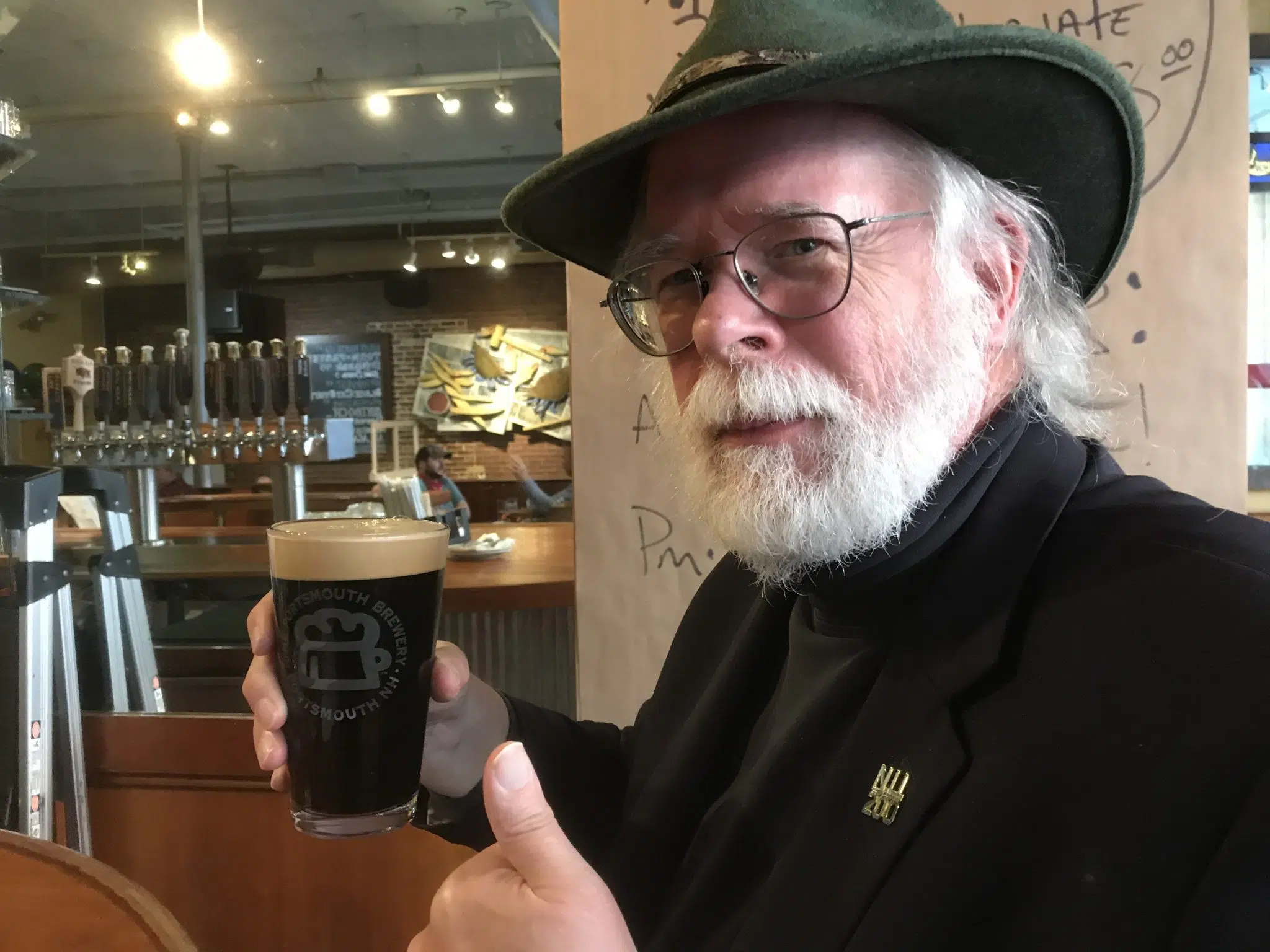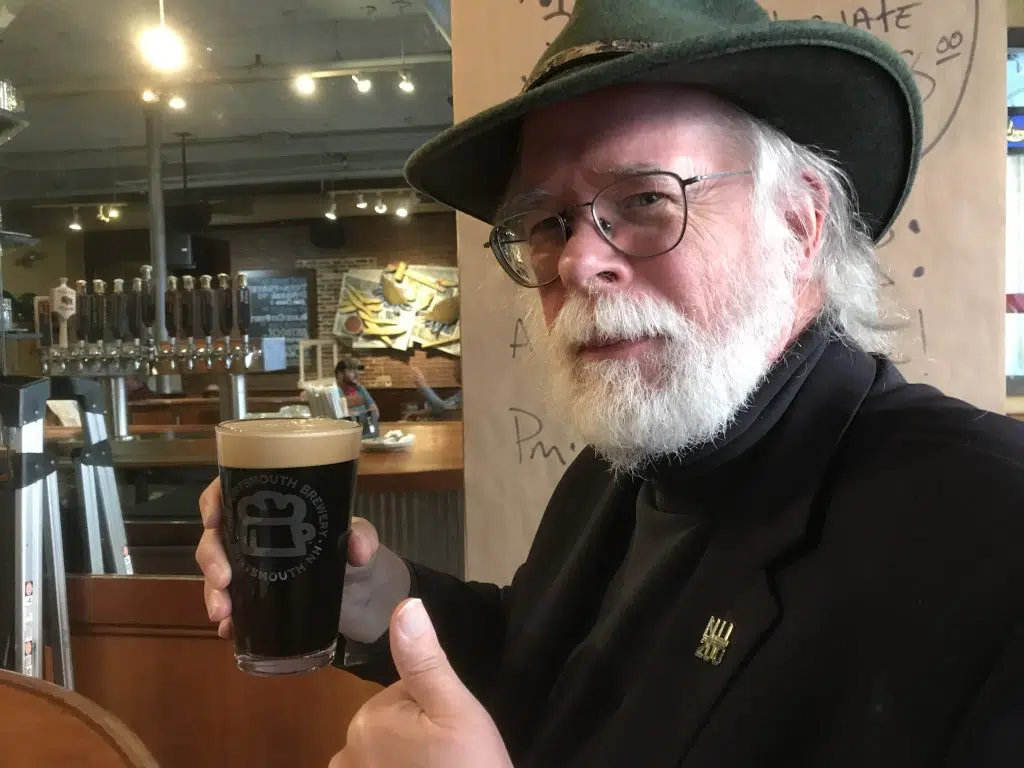 There are few more refreshing things in the world, in my opinion than a well-poured mug of brew, fresh from the tap in a place where beer is treated with respect.
Why is beer served so refreshing when consumed straight from the bottle or can? Even if that bottle or can is decanted into a proper beer glass, there is still something not quite as finished as a mug of freshly drawn beer.
            In the beginning, beer was brewed for almost immediate consumption by the family or manor folk where it was brewed. It was aged for a short while in casks but not long enough for the wood to impart any significant flavor. If the beer was lagered in barrels, pitched-lined casks were used.
            Of course, there was no real reason to expect a cask of beer to outlast a serving session. The consumption of barrels of "cask-conditioned" ale was usually completed by those who opened the keg in the time it took them to drink the contents. The quality of draft beer depended, very much, on the ability of those present to finish the keg.
Who Brewed the First Draft Beer?
Medieval monks producing beer in large quantities for their own use soon discovered the problems of how to store the stuff for later use and trade.
Barrels were available and the perfect answer to the problem. At first, this was done to supply the monastery with beer. However, often the beer gained enough of a reputation that the Monks found a lucrative trade opportunity. Naturally, there was a lack of standard measurements resulting in tuns, hogsheads, barrels, kilderkins, firkins, and what were known as barrels or casks. They are also defined volumes for the storage and sale of beer.
Today just the barrel and the Firkin survive. The Firkin is defined as ¼ of a barrel and is the standard measurement and storage vessel of cask-conditioned ale.
The standard keg is a 1/2 barrel containing 15.5 gallons of beer.
The list of beer kegs include:
Cornelius Kegs (5 Gal./18.9 liters),
1/6th Barrel / Sixtel (5.16 Gallons / 19.5 Liters),
Pony Keg (7.75 Gallons / 29.3 Liters),
1/4th Barrel (7.75 Gallons / 29.3 Liters),
Firkin (9 Gallons / 34 Liters),
Import Keg/European Barrel (13.2 Gallons / 50 Liters),
Half Barrel/Full Keg/Keg (15.5 Gallons / 58 Liters).
Seven Beer Kegs:
Cornelius Keg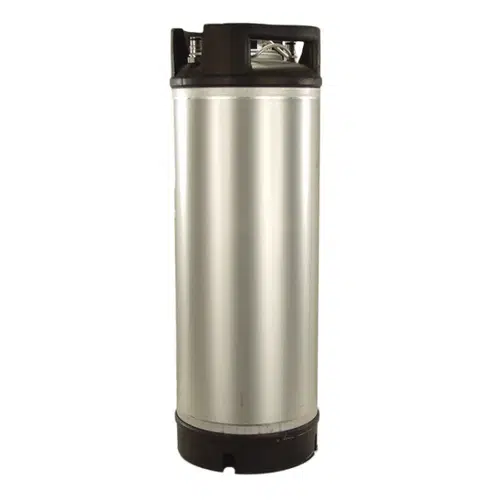 Corny Keg, Soda Keg, Home brew keg
Capacity
5 Gallons / 18.9 Litres
53 beers (12oz)
40 pints (16oz)
Weight
9 lbs empty
55 lbs full
1/6 Barrel Keg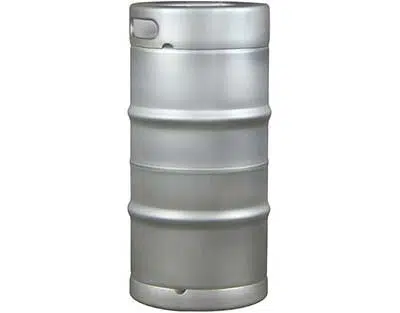 Torpedo Keg, Log, Sixth Barrel, Sixtel
Capacity
5.16 Gallons / 19.5 Litres
55 beers (12oz)
41 pints (16oz)
Weight
16.5 lbs empty
58 lbs full
Pony Keg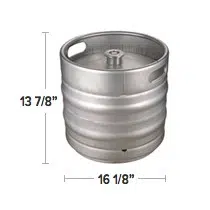 Pony Keg, Quarter Barrel, Stubby Quarter
Capacity
7.75 Gallons / 29.3 Litres
82 beers (12oz)
62 pints (16oz)
Weight
22 lbs empty
87 lbs full
1/4 Barrel Keg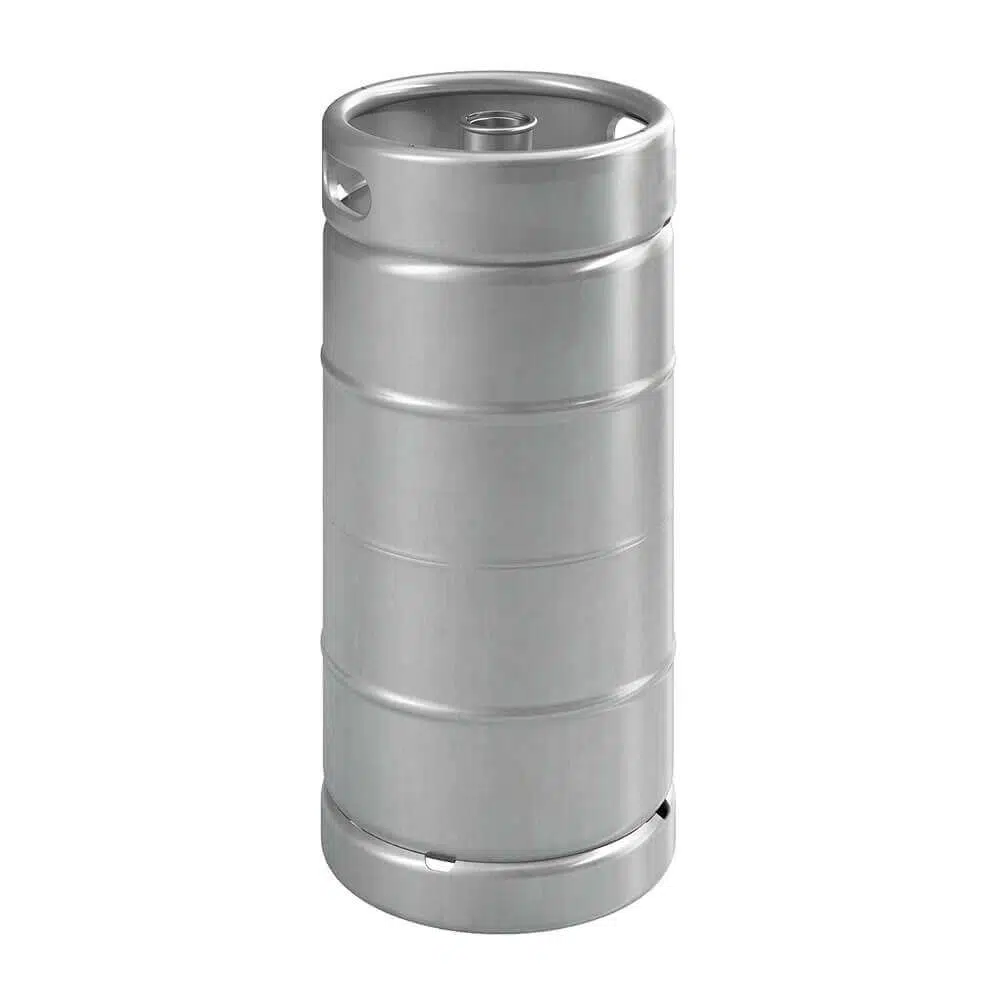 Slim Quarter Barrel, Tall Quarter
Capacity
7.75 Gallons / 29.3 Litres
82 beers (12oz)
62 pints (16oz)
Weight
22 lbs empty
87 lbs full
Firkin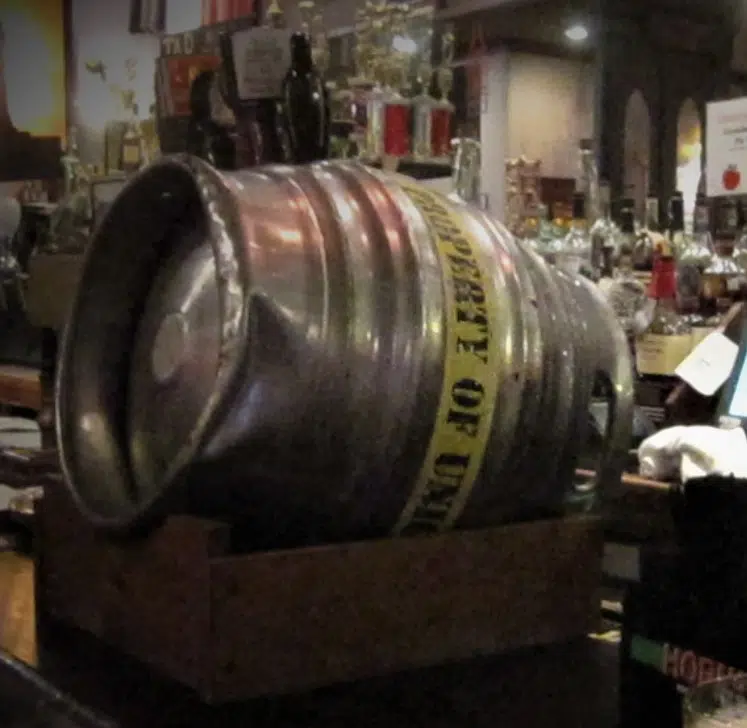 Capacity
9 Gallons / 34 Litres
96 beers (12oz)
73 pints (16oz)
N/A lbs.  full
N/A lbs.  empty
Import Keg, European Barrel, 50 Liter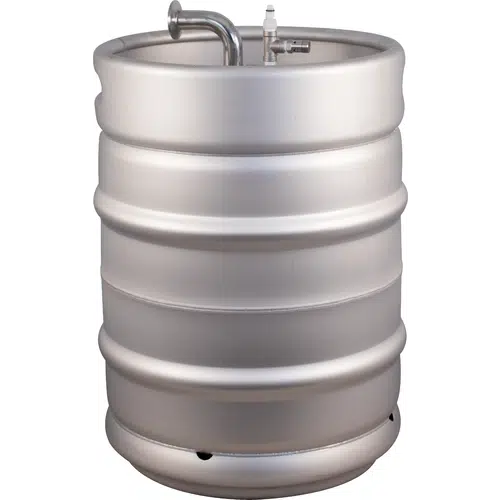 Capacity
13.2 Gallons / 50 Litres
140 beers (12oz)
105 pints (16oz)
Weight
28 lbs empty
130 lbs full
Half Barrel, Full Keg, Keg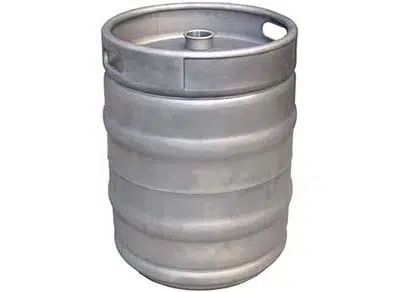 Capacity
15.5 Gallons / 58 Litres
165 beers (12oz)
124 pints (16oz)
Weight
30 lbs empty
160 lbs full
Types of Draft Beer Taps
Gravity Cask Tap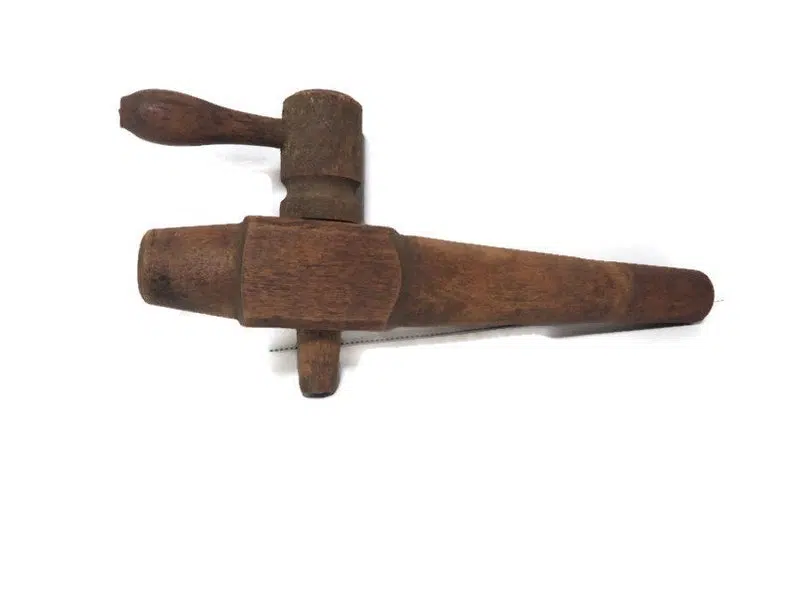 Cask Ale is unfiltered and unpasteurized, leaving the yeast sleeping at the bottom of the bottle or can. (This is called bottle-conditioned). Serving these without pressurized gases helps keep the yeast present, and slow fermentation can keep the beer fresh.
The way to tap a cask (or 'Firkin') is by tapping a simple on-off valve into the bottom of the container with a hammer and letting gravity do the work. The beer simply flows out of the cask and into the glass.
The 'Gravity Cask Tap' almost disappeared with the advent of pressurized containers. However, you may still see it at some traditional or niche beer bars.
Keg Party Pumps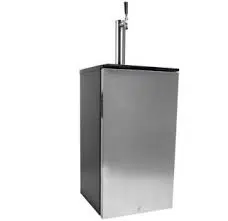 The type of beer tapping system most commonly seen at house parties. The unit includes a hand pump to provide air pressure in the keg, which then helps dispense the beer. Because this method introduces outside air with bacteria and other elements that will cause reactions. It is best to consume this beer within a few hours of first tapping. Learn to tap a keg at home in 5 easy steps.
Pressure-dispense Bar Tap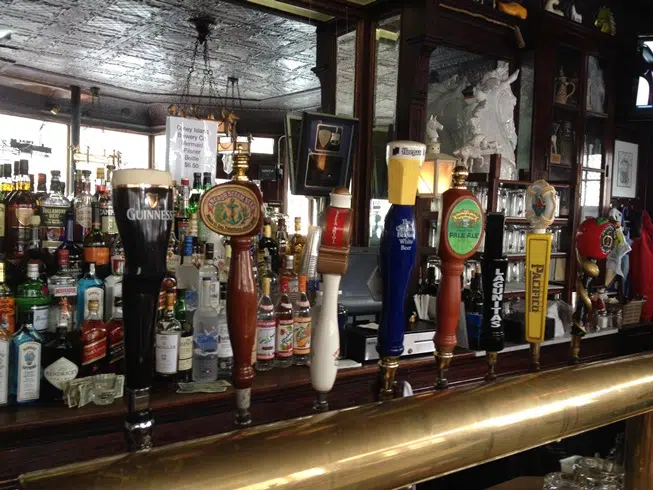 Beer supplied in standard kegs is pumped along beer lines with the help of pressurized gases (usually carbon dioxide, sometimes nitrogen). The beer tap which controls the pressure is the decorative tap handle behind the bar. This is the most common type that you see in restaurants, pubs, and bars.
How to Pour Draft Beer
Beer at Home On-Tap!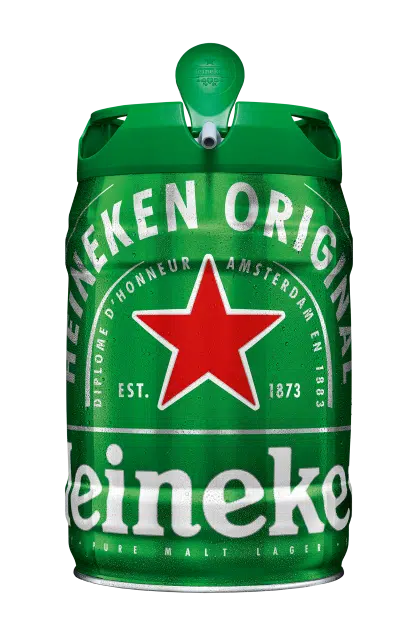 I'll let the folks from Heineken tell you all about it…
"The Heineken Draught keg is a five-litre keg full of premium Heineken beer. It has an integrated carbon dioxide cartridge that allows you to enjoy fresh, draught beer whenever and wherever you choose. This means you can now enjoy genuine draught beer at home, parties, barbecues, birthdays, at the beach, on boat trips – anywhere you like. The Draught Keg is an easy-to-carry, instant draught beer system that's also really easy to use, and the empty keg can be easily disposed of after use."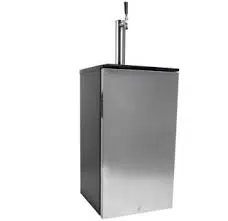 Over the last quarter of a century, Homebrewing has made incredible advances from the day of Blue Ribbon (Yes THAT Blue Ribbon) Malt Syrup and Red Star yeast.
On top of that, the day of soaking and sanitizing a case of twenty-four twelve-ounce brown bottles, filling them with brew, and crown-capping each has also passed. Today, secondary fermentation occurs in metal Sanky Kegs and is stored in a "Kegerator."
The Best Draft Beers?
Keep it Clean
Keeping all beer lines clean, and sanitized, is the secret to pouring beer or ale at its best. This basic rule applies to the local pub, bar, tavern, the homebrewer, and anyone with a kegerator.
The Best Temperature to serve Beer and Ale
The best draft beers are served at the proper temperature. The best temperature to serve a brew depends on if it is a lager or an ale. Fermented at low temperatures by bottom-fermenting yeast, Lager beers should be served between 35F and 45F. Ales are fermented by top-fermenting yeast that can warm a wort to over 65F. The aromatics formed at that temperature can only be admired when the ale is served at "cellar temperature."
What is a Beer-Clean Glass?
The best draft beers are served in a beer-clean glass. To fully appreciate the carbonation of a brew, the glass must be beer-clean. This means that it was washed with detergent (never oily soap) in hot water and thoroughly rinsed, air dried, and polished with a lint-free towel.
The Perfect Glass for Beer
The best draft beers are served in the correct glass. A light-colored Lager should be served in a tall pilsner glass to show off its color, and a stream of carbonation rising from the bottom of the glass to form a creamy white head of foam. A unique glass for Weissbier shows off its carbonation and creamy white head. Click on the following link for the whole story of the best beer glass for the beer you like… https://theoldgrowler.com/beer-and-food/how-to-serve-beer/
Conclusion:
Beer – On Draft, Bottled, and Canned
Assuming you are not a homebrewer at home and don't have a minifridge adapted to dispense a small keg of beer, you will be drinking beer from a can, bottle, or growler.
This makes the glass selection and pouring technique essential to getting the most out of that beer. The carbonation will be affected by temperature and how the bottle or can has been handled. Shaken, you will have a glass of foam and not much else. Ice cold, you might not get much of a head, to begin with, and an almost flat-tasting beverage.
The Secret of Draft Beer
At a pub, bar, tavern, or restaurant, you are free to enjoy a draft brew. You will notice two things. The first is that the beer is served at the optimum temperature for the most part. It is not unusual to serve both lagers and ales between 38-40F. This is warm for the lager (34-38F) and chilly for the ale (45-50F). If you are lucky, your beverage will be served at the optimum temperature for the style.
Next, you should notice a difference in the carbonation of the beverage. Most fermented malt beverages (wheat beers are exceptions) are served on draft at one atmosphere of pressure. This, pretty much standard, pressure is less intense than packaged products.
Carbonation – The Third Flavor in Beer
This is important because CO2 is translated into carbonic acid when infused in water. This acid has an effect on the taste receptors. Giving them a tingling sensation. (Try sipping carbonated water such as soda water or seltzer.) This can affect how hop flavors can be perceived. If you can, try the same brand of brew from the tap and as poured from a bottle or can. At the least, you now have an excuse to have two beers in front of you at your local tavern.
Cheers!
Peter (The Old Growler) LaFrance