There are many names for business establishments that dispense beverage alcohol to the public for a profit: bar, tavern, bistro, restaurant, gin mill, suds bucket, and roadhouse. And then there is the "Dive" Bar. In this case, I suggest that there are three separate breeds of the same species.
Three Basic Sorts of "Dive" Bars
First is the "Dangerous" Dive Bar. I suggest it is not good to go there.
Next, there is the "Neighborhood" Dive Bar. This is a place that has been around for at least two generations in a town or neighborhood. It is well worn but not shabby, respectable but not pretentious, inexpensive but not cheap, collegial, but welcoming. In short, a comfortable place to enjoy a beer and/or a shot.
A "Dive" by Definition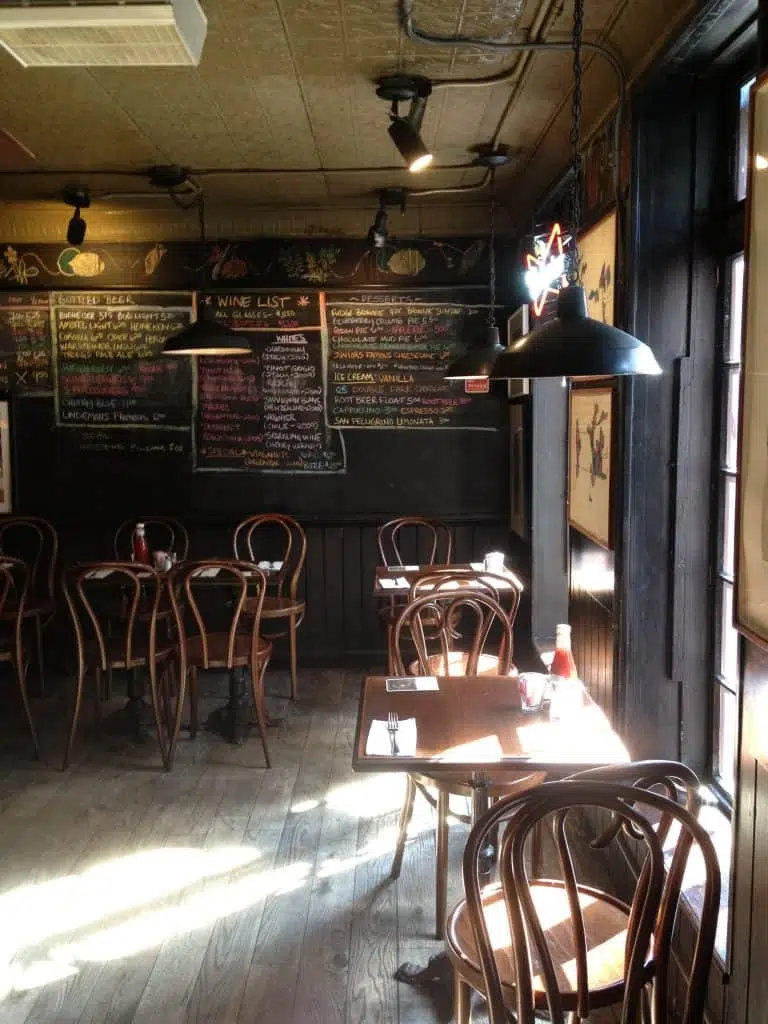 "Cheap beer matters, and hiring a decorator is basically a disqualifier (dive-bar décor just happens). A food menu shouldn't really go beyond peanuts. And crucially, dives have a quality of the home, a romantic sense of instant belonging (thank the bartender for that)."
https://www.grubstreet.com/bestofnewyork/50-best-dive-bars.html
The folks at Wikipedia note that the term "Dive Bar" has its origins in the early 1800s.
"Once considered a derogatory term, a dive bar is now a coveted badge of honor bestowed by aficionados looking for authenticity in such establishments. Devotees may describe a bar as "very divey" or "not divey" and compose rating scales of "divey-ness."
Also noted in the Wikipedia definition…
"Author Todd Dayton offers the following: "Dives [dive bars] are like pornography: hard to define but you know it when you see it.""
As to what distinguishes a dive bar from an ordinary bar, Dayton says:
"Dive bars adhere to a minimal level of effort needed to provide guests with drinks; i.e., they typically do not advertise, provide parking, or have fancy signage. Dive bars are not known for their food. They often don't serve food beyond pretzels and snacks. "Fran's East Side," a Nashville dive bar, sells pork rinds, popcorn, peanuts, and microwaved corn dogs ($1), and smoking is allowed. The hand-written menu is taped to the refrigerator. True dive bars are "cash only" and would not have computerized registers. Bathrooms in dive bars are notoriously shabby. The owner or one of his family members is often working the bar. Dive bars usually have a clientele from all walks of life, including some old locals who have been drinking there for 20 years."
https://en.wikipedia.org/wiki/Dive_bar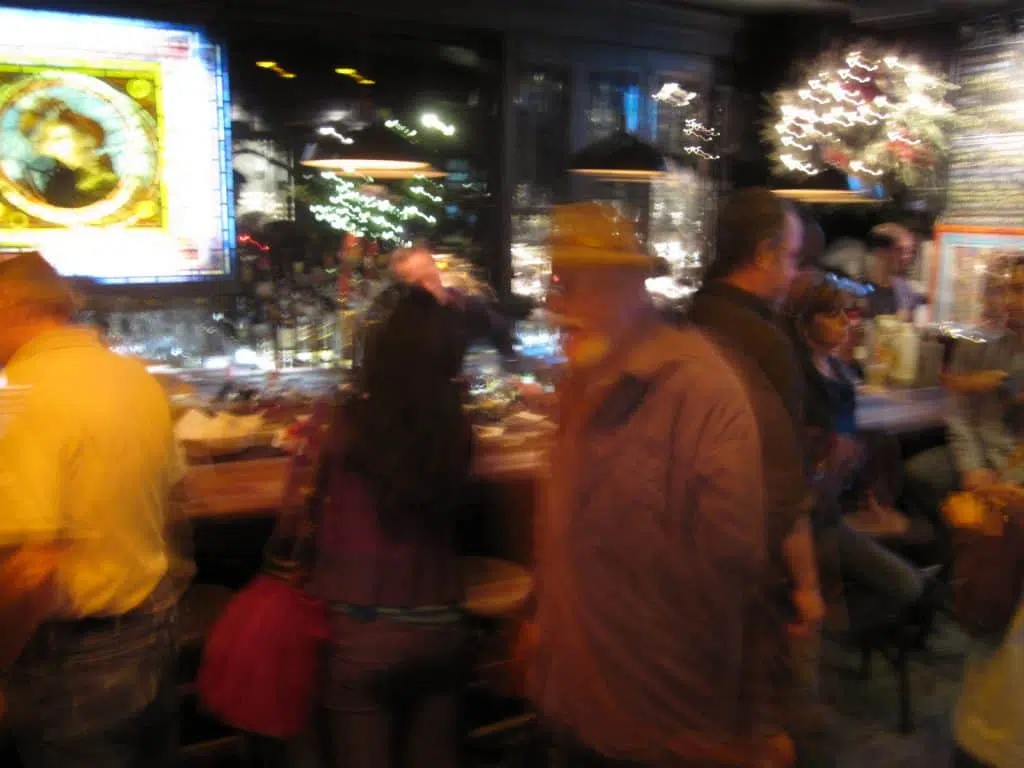 "I like the people here… I've never met a bad person here."
–Dave Lennard
The other week, I wandered into a dive I had never been to— Gottscheer Hall in Ridgewood, Queens—on one of those sweltering New York days when any bar seems like an oasis. It was so hot the roaches were flying, and a white-haired man stood just outside the door, swatting at them.
He told me his name was Dave Lennard. The 67-year-old had cascading eyebrows that hung about a half-inch off his face and two visible teeth on the bottom row. Carcasses of his past kill littered the ground along with the butts of the Half-and-Half cigarettes he'd rolled at home. Lennard, who punctuates about every fifth sentence with "boom," told me that he had done three tours in Vietnam, and had lived in the neighborhood for 20 years before moving to Glendale, still in Queens but not exactly close.
"There's always steadies here, but then always new people you want to meet," he said about why he still treks back to Gottscheer.
https://www.vice.com/en/article/yved7w/whats-the-definition-of-a-dive-bar
The "Dive" as Community
That was discussed not too long ago at Tales of the Cocktail convention during a panel discussion called "Elevating the Dive Bar." The panel included Alastair Burgess (Happiness Forgets, Original Sin), Damian Windsor (Roger Room, Westbound). It was moderated by Michael Neff (Holiday Cocktail Lounge).
"One important thing we do is introduce our regular customers to other regular customers," explained Burgess. "It's about building a community and relationships within the bar itself—that's what a bar really is all about. In the day and age of computers and the internet, you can do everything from your phone straight from your pocket. So the bar is the last bastion of social activity where you can make friends, meet new people, without any hidden agenda."
"Culturally, if you can bridge the gap between generations and maintain this community of people who have been going there for 40 years, you've maintained this idea of being a dive bar without having to be a shitty bar," says Miller.
Can a "Dive" be created?
"You see, your authentic dive bar is not making much of an effort beyond the minimum required to serve its guests with drinks."
"The dive bar employs precisely as many employees as necessary, and no more. Their style of service (if you will) will be honest. For most people drinking in a dive, this is not a problem, and you take service how it comes."
"The dive bar stocks the drinks it can most easily serve. This means that if their Irish whiskey is Jameson, their Irish whiskey will always be Jameson. As a result, repeat orders require less effort than new products."
"The dive bar invests precisely as much money as required to keep the door open. It doesn't mean a bar has to have things falling apart to be a dive; it means that something in a dive that happens to be broken has been broken for some time."
https://boston.eater.com/2014/10/23/7046703/what-we-talk-about-when-we-talk-about-dive-bars
How You Defined a "Dive"?
On 21 May 2021, I went to FaceBook to see what I could find there. The answers were varied, and quite a few "Dive Bars" are fondly remembered.
Kirk Herniman
It still has spittoons and a foot rail.
Keith Symonds
I'm with Justice Stewart (substitute dive bar): In 1964, Justice Potter Stewart tried to explain "hard-core" pornography, or what is obscene, by saying, "I shall not today attempt further to define the kinds of material I understand to be embraced… [b]ut I know it when I see it …"
Jon Melick
Dark inside; smells of stale beer; cheap, well-worn furniture; lottery terminal prominent; sports on all of the TVs…
Clyde Henriques
Bad Jukebox, no top or even middle shelf booze, flat beer…
Philip F Tavano
George's in North Tarrytown.
It was under some apartments the owner owned. It was probably, I don't know, 20′ by 20′, with I think four booths with warn vinyl covering and about six barstools. And a Piels beer flouresent light in the window. A mixed drink consisted of a hot if alcohol and a mixer. Of course, I had to bring my own maraschino cherries for my vodka collins. And, of course, a somewhat gruff but likable heavy set owner always with a cigar in his mouth and always a story on his lips.
Just to make it legal, George used to have a pot of pasta or ham and cheese. If you were lucky, you might even get some cigar ashes with it.
Barbara Siebel
Old & dirty
Kate Twyford-Ziebke
At least back in the day, I would consider The Setback Inn as I haven't been in years, in Tarrytown, a dive bar. Dark inside, scruffy-looking, pool table, a jukebox. A musty old beer-smelling, local hang-out joint. Loved that place!! Lol
Justin Schunk
Townies and cheap drinks!
Paul Murray
The smell of stale beer and urine wafting thru a dank interior. The occasional visit of a roach scampering past.
Gary Stebbins
Anyone remembers the bar in Montpelier "Blackie Stones Industrial Revolution?" I think that was the name. Drank a lot of beer there and at Aces in Northfield. Those were the days…
Peter LaFrance
Who wants to elaborate on the ambiance of "Blackie Stones" for my readers?
Mark Stafford Let's see a bar with entertainment in Montpelier. That had $ .10 beer night that I thought was on Wednesday nights. Just to prep for the weekend. Live entertainment on weekends and was ALWAYS packed. Cover Charge on the weekends and standing in line to get in was typical. Great bar!!
Mindy Feinberg
I think there are two kinds of dive bars in my area. One is a bar in the not-so-nice area, and people don't usually know many people. Then there are several bars, in some of the sections where I live, that are generally owned by our friends. They serve shots and beers plus a few regular drinks primarily. We all knew each other like a Cheers bar. They had good bar food, sometimes music, and sometimes stayed all night after the bar closed. We all drank for free because you can't sell drinks after 2:00 AM or 3:00 AM, as I remember. It was a great place we even (the girls) would all wear flannel nightgowns!
Pete Gleason bought it in the late '70s from Rez, who bought it from Bozo's in the '60s. He sold it in the last couple of years but is still Gleason's Bar on Millcreek Rd in Levittown, PA.
Frederick Nesta
Things I learned at my mother's knee and other low joints. I remember one bar with filthy toilets, fights, etc… Still, I think a dive has more class than that and refers to a bar without pretense, has regulars who still welcome strangers, especially quirky ones, and where you go for the feel of the place.
Alan Moen
Where the regulars seem permanently attached to the barstools since at least 1947. Hattie's Hat in Seattle's Ballard is a perfect example.
Seattle also has (or maybe had) a real dive bar near the Pike Place Market, the Scenic, that always seemed full of drunken Indians. Still, you probably can't get into ethnicity as a definition.
Lisa Will
I was in one this afternoon. And I will return there! When I asked for a menu, they said, "We're just a dive bar, but we've got good food, and we're fun." I love a good dive bar. This is not a dump, just no pretense.
Jeff Marlow
A "Dive" is a place where you don't even think of ordering wine or a mixed drink that takes more than 20 seconds to pour.
The Dive Bar Videos
The Old Growler Remembers The White Horse Tavern
The Old Growler visits The Broome Street Bar and Grill
A Minute of the Old Town Bar, New York, NY