What is a Taco?
Wikipedia says:
"A taco (US: /ˈtɑːkoʊ/, UK: /ˈtækoʊ/, Spanish: [ˈtako]) is a traditional Mexican dish consisting of a small hand-sized corn or wheat tortilla topped with a filling. The tortilla is then folded around the filling and eaten by hand. A taco can be made with various fillings, including beef, pork, chicken, seafood, beans, vegetables, and cheese, allowing for great versatility and variety. They are often garnished with various condiments, such as salsa, guacamole, sour cream, and vegetables, such as lettuce, onion, tomatoes, and chiles. Tacos are a common form of antojitos, or Mexican street food, which have spread around the world."
https://en.wikipedia.org/wiki/Taco
What Qualifies as a Taco?
published May 04, 2021
by Danny Mena 
"Many of us don't consider what qualifies as a taco beyond the most recent iteration we experienced (and want to experience again). And yet, as chef and cookbook author Danny Mena explains, perhaps everything in Mexican cuisine is, at least in spirit, a taco."
"Every indigenous language in Mexico has several words for tortilla, but until the advent of restaurants serving foreign cuisines and the codification of native dishes, there was little need for a word that simply implied "eating.""
"In a very stratified society like that of Mexico City, tacos are a great equalizer: no one is "above" scooping food into a tortilla and eating it with their hands, even at the most exalted restaurants. By all means, you can serve any dish on a plate with a knife and fork and no tortillas in sight, but you'd be losing part of the soul of Mexican cuisine."
https://leitesculinaria.com/318251/writings-what-qualifies-taco.html
How do you make hard taco shells?
Preheat oven to 300F.
Lightly coat the soft tortillas with oil.
Drape each tortilla directly over 2 rungs of the oven rack.
Let the tortillas bake for about 15-20 minutes (when the edges start to brown, they're ready to take out).
https://www.thecookierookie.com/10-tacos-and-nachos/
Taco Seasoning Recipe Ingredients:
Ingredients:
3 tablespoons ancho chili powder
2 tablespoons ground cumin
1 tablespoon garlic powder
1 tablespoon onion powder
1 tablespoon dried oregano
2 teaspoons smoked paprika
1 teaspoon crushed red pepper flakes
1 teaspoon kosher salt
1 teaspoon black pepper
Instructions:
Whisk all ingredients in a medium bowl—place in an airtight container and store in a cool, dry location.
Homemade taco seasoning will keep up to 6 months.
Enjoy!
https://www.thecookierookie.com/homemade-taco-seasoning/
Where Does Taco Tuesday Come From?
"According to Thrillist, Taco Tuesday's history goes back to the phrase's first use on August 20, 1973, edition of the Rapid City Journal in South Dakota. Under the drawing of a Spanish flamenco dancer, the Snow White Drive-In asked people to 'Stop in on Taco Tuesday.'"
"The Priceonomics story quotes Taco John's spokesperson as saying Taco Tuesday came from one David Olsen, a franchisee who coined the term for his Minnesota location in the "early 1980s" as "Taco Twosday." But that ran contrary to Taco John's own website in 2011, which stated Taco Tuesday® started in Rapid City, South Dakota, in 1982. Which contradicted their 2010 press release that said the company started Taco Tuesday® in 1983. And ran aground of a Taco John's spokesperson who told The Oklahoman in 2010 that the special began in February 1982."
"The origins of Taco Tuesday history may not be clear. Still, one thing is for sure: Our favorite deal on one of our favorite Mexican dishes isn't going anywhere."
THE OLD GROWLER'S SPECIAL TACOS
(Serves You and a few friends.)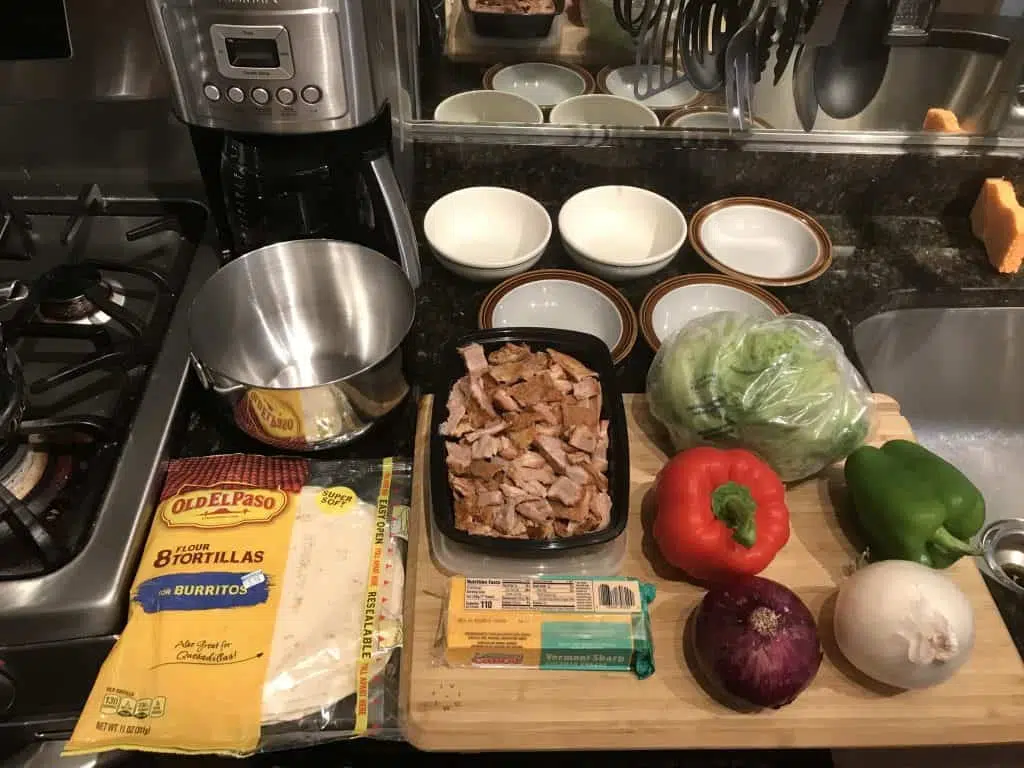 The inspiration for the Old Growler's Tacos is found in the refrigerator. It is here where he will never fail to find a container of some sort of left-over meat. (In this case, the remains of half a rack of pork ribs.)
The additional ingredients can usually be found in a well-stocked kitchen. If not, they should not be too difficult to find in a local grocery.
As you will note, there is no specific measurement for the amounts of Ingredients: listed below. This is because the ratio of each is up to the creator of the Taco.
I leave the amounts to luck.
Ingredients: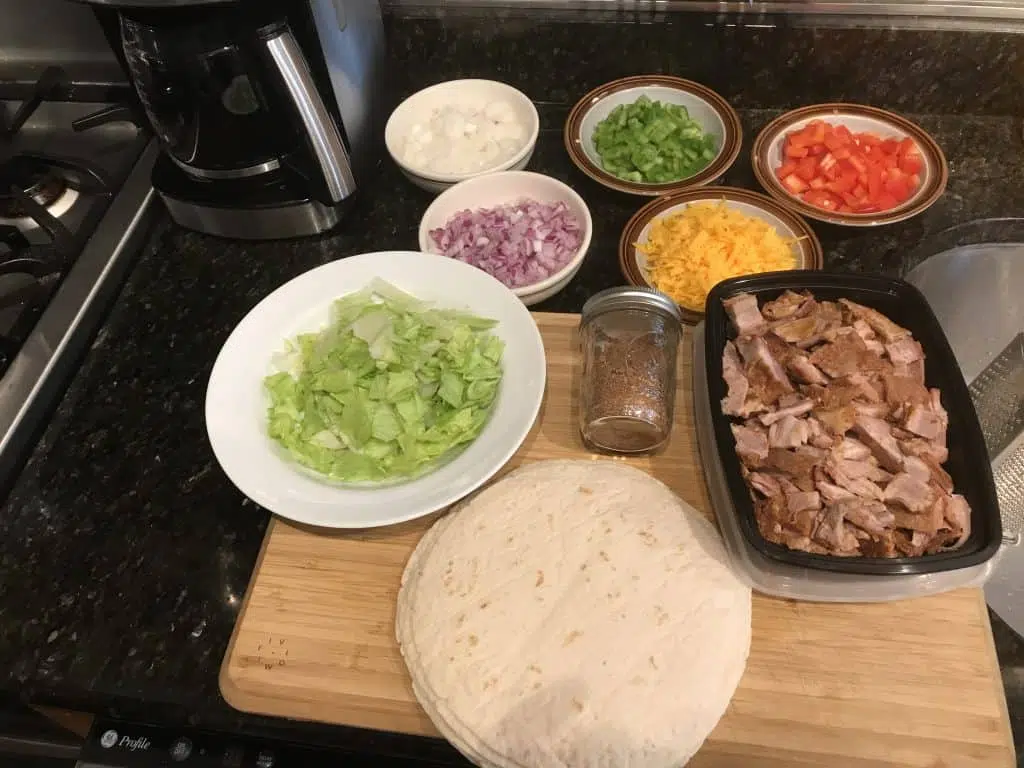 The meat of Your Choice
Red Onion
White Onion
Red Bell Pepper
Green Bell Pepper
Lettuce
Shredded Cheddar Cheese
Tortillas
 Seasoning Mix:
3 tbsp. Ancho Chili Powder
2 tbsp.  Ground Cumin
1 tbsp.  Garlic Powder
1 tbsp.  Onion Powder
1 tbsp.  Dried Oregano
2 tsp. Smoked Paprika
1 tsp. Crushed Red Pepper Flakes
1 tsp. Kosher Salt
1 tsp. Black Pepper
Seasoning Mix Instructions:
Place the ingredients in a jar with a tightly fitted lid. Shake to mix. Use as needed.
Mis en Place :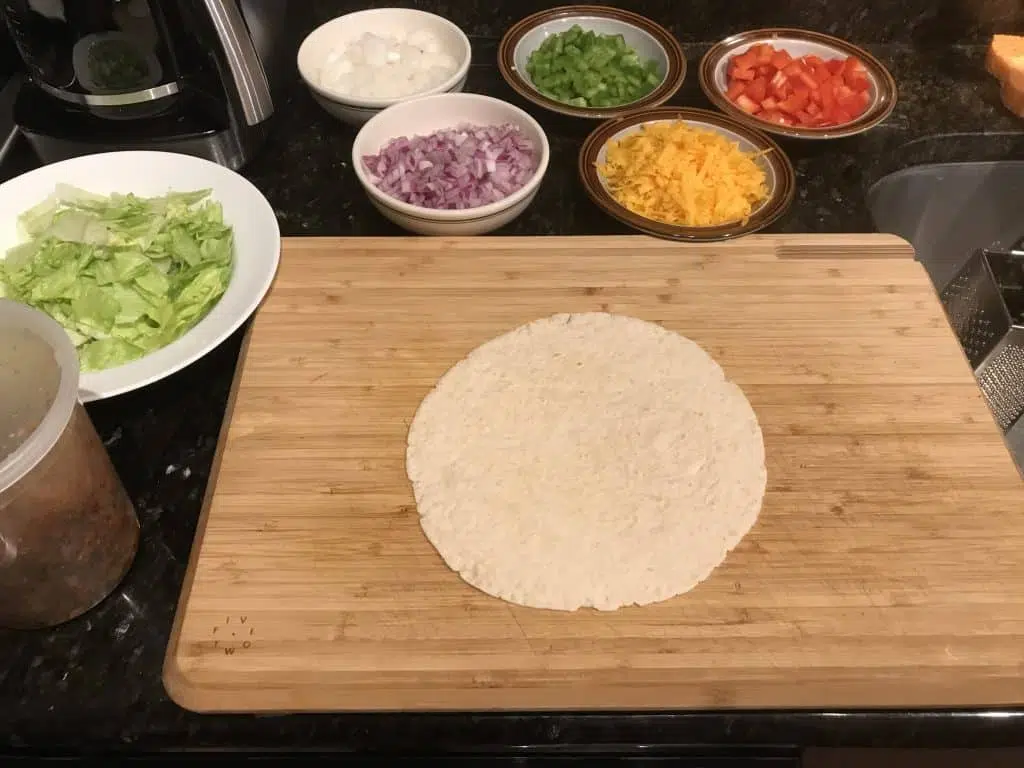 Peel and chop the Red Onion, White Onion, Red Bell Pepper, and Green Bell Pepper. Chop the lettuce and have the shredded cheese on hand.
Warm the meat in the microwave until warm. Add to a large enough bowl to hold it all and sprinkle with the seasoning mix. Toss in the bowl, or mix with a fork until well mixed.
Take the tortillas out of the packaging.
Choice #1: Place a damp paper towel between each one and place it on a microwaveable plate. Heat on High in the microwave for 30 seconds. Remove from the microwave and place the plate on the countertop.
Choice #2: Heat a frying pan over medium heat. Place a tortilla in the heated pan for about twenty or thirty seconds on each side. Pile the tortillas on a warm plate.
Assemble :
Place one warm and foldable tortilla on the work surface.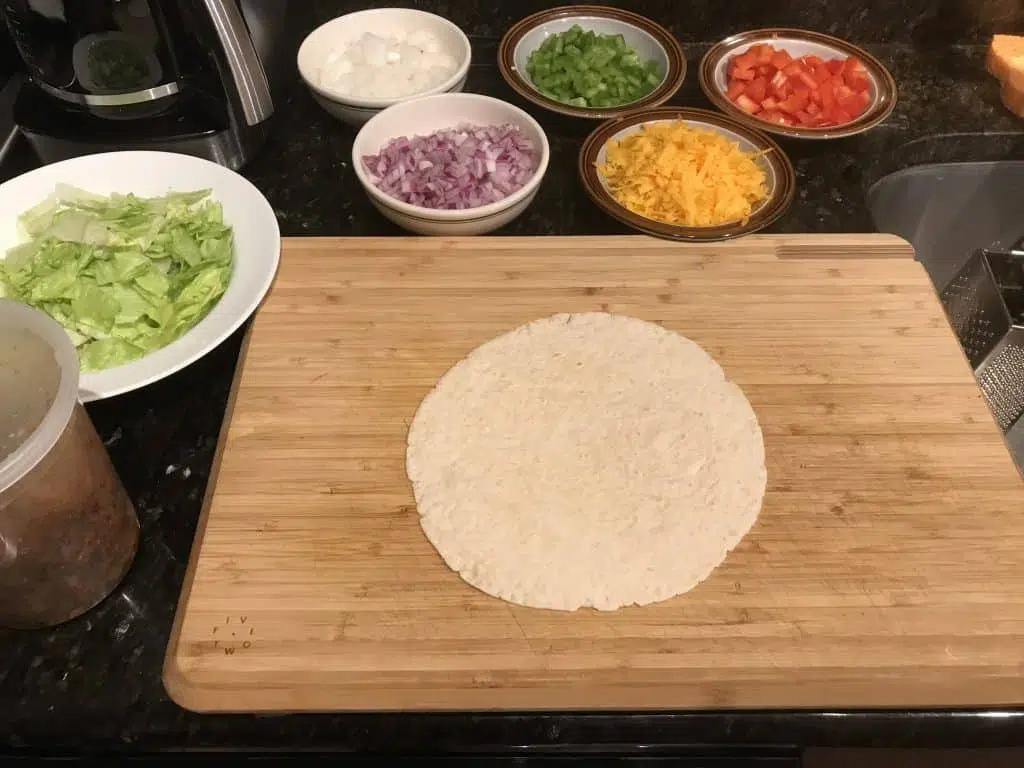 Place a few shreds of lettuce in the middle of the tortilla.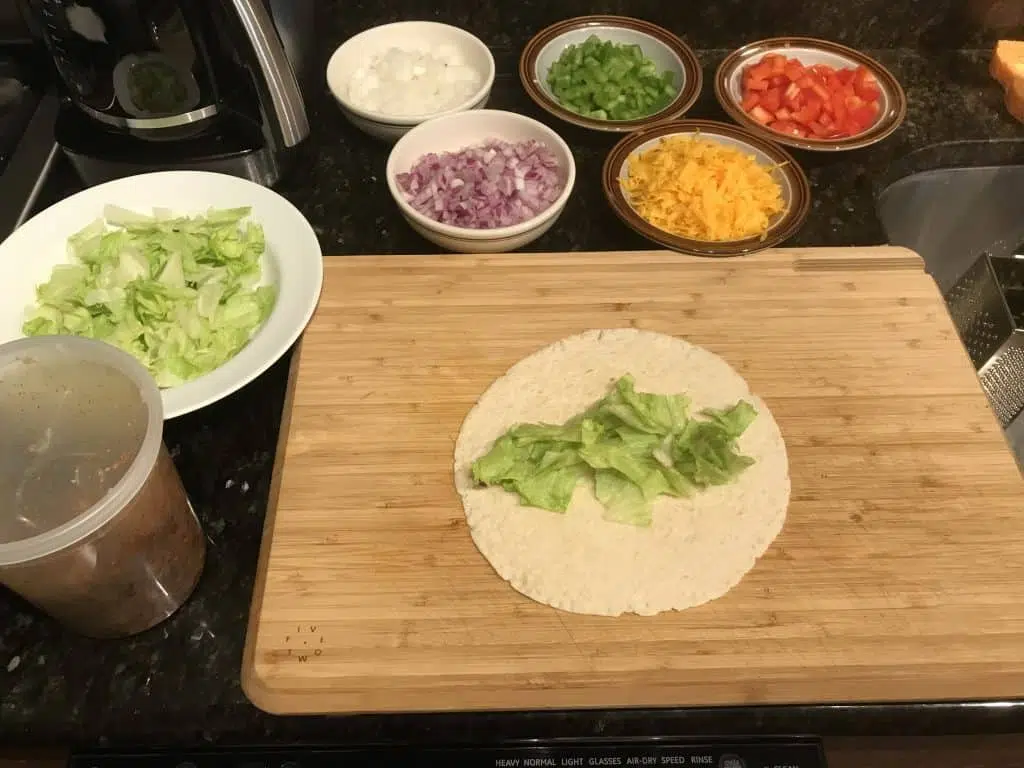 On top of the lettuce, add the onions and peppers.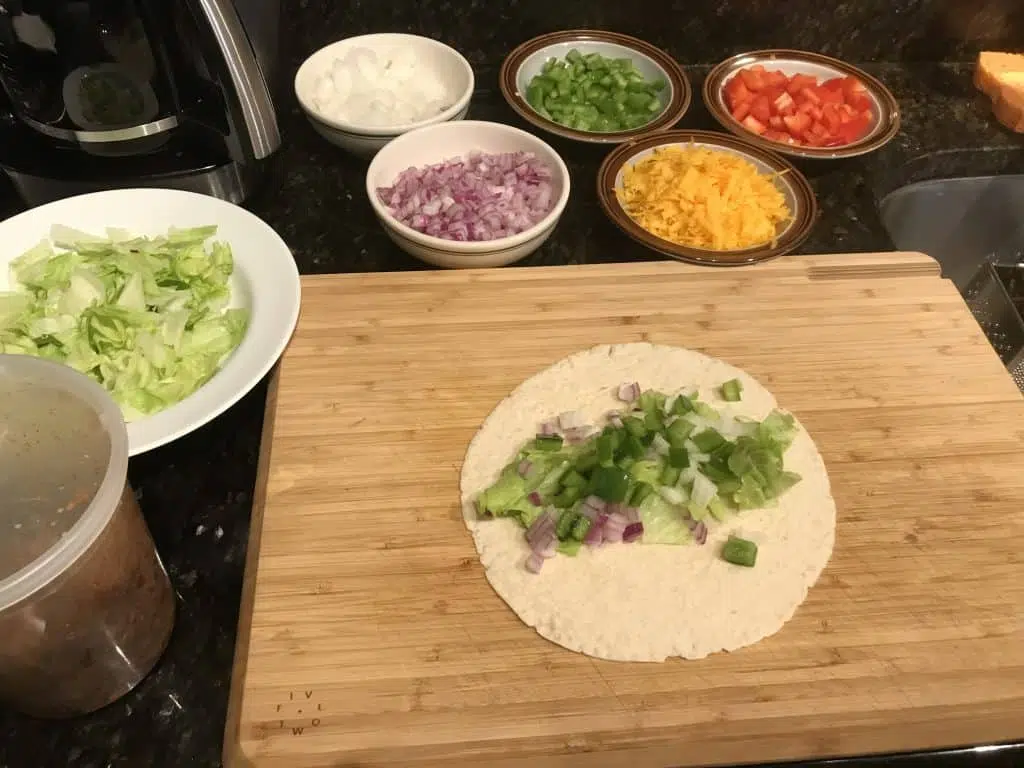 Then add enough meat and shredded cheese to allow you to fold the tortilla together.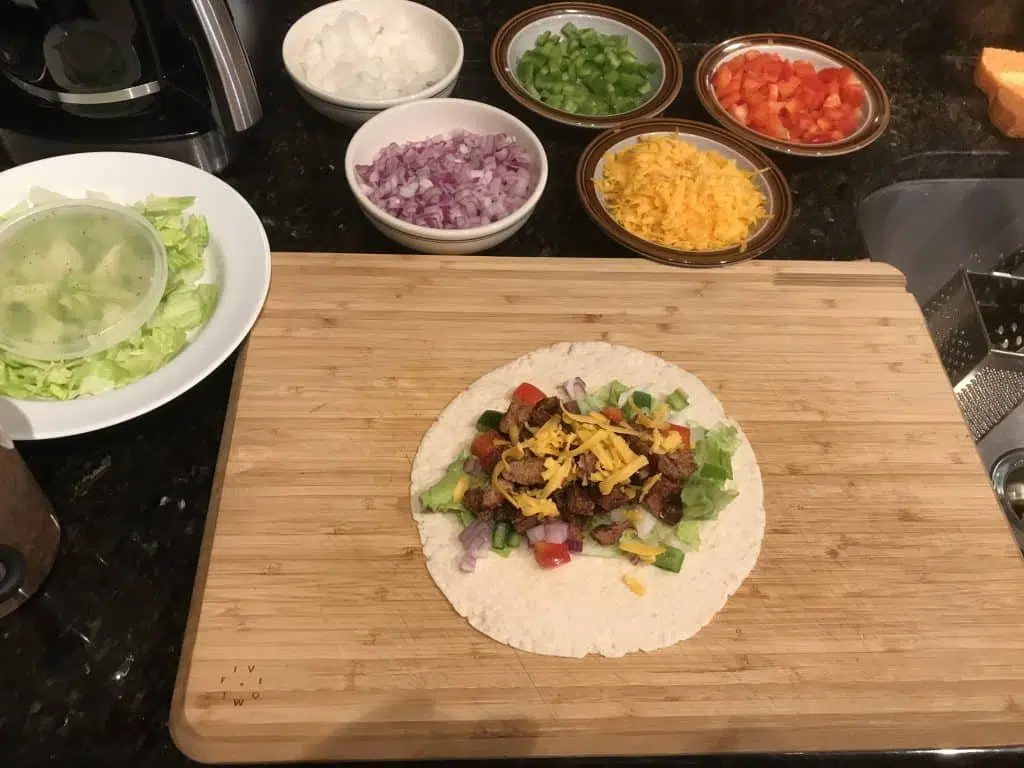 Each bite should include a bit of all the assembled flavors.
Enjoy!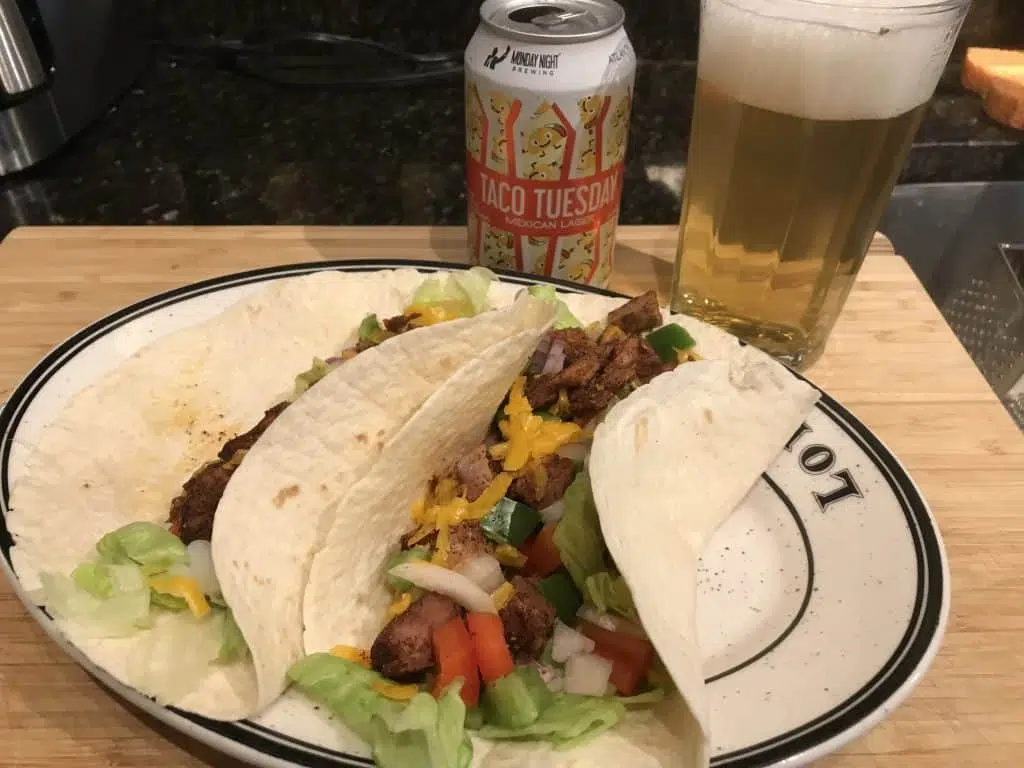 Monday Night Brewing Co. Taco Tuesday Mexican Lager