A Marriage in Bavaria
The origins of "Oktoberfest" go back to October 12, 1810, and the Crown Prince Ludwig of Bavaria's wedding to Princess Theresia of Saxonia. It must have been a fantastic party because, to this day, Munich's citizens still call the Oktoberfest "die Wies'n" (the Meadow, expressed in Bavarian dialect). And the area where it is held is fondly known as the "Theresienwiese" (Meadow of Therese).
Politics, including a few wars, closed the taps off and on for a few years. And then, in 1950, mayor Thomas Wimmer, one of the most popular mayors of that city, introduced the "O'zapft is!" (It's tapped!) tradition, the official tapping of the very first Oktoberfest beer barrel precisely at 12,00 o'clock of the first day of the fair. 
Since then, the Oktoberfest celebration has placed Munich on the map as one of the most enjoyable places to enjoy good beer, and good food. Not unlike the kind of fun found at state fairs here in the United States.
Oktoberfest – The Beer Style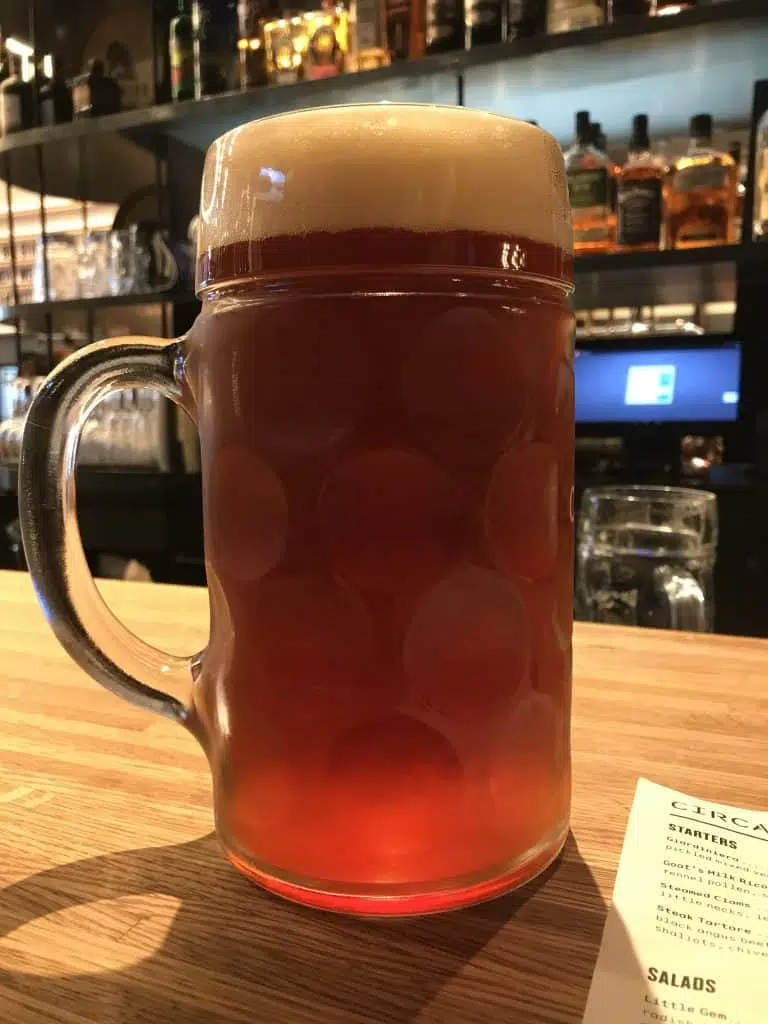 The beer was introduced in 1872 when the Spaten brewery began offering what they called Ur-Marzen the "original" Marzen. The beer grew out of a collaboration between Spaten's Gabriel Sedlmayr and Anton Dreher of Vienna, hence the term Vienna beer.
         The story began in 1841 when Viennese brewer Anton Dreher began brewing a new beer. It had a reddish, copper color and a sweet malt character. It was an immediate success. Dreyer's Vienna beer did not go unnoticed by Gabriel Sedlmayr at the Spaten brewery in Munich. He soon introduced his own version, a beer called Marzen ("March beer"). It was an amber-red, malty, medium alcohol content, crystal clear, and bottom-fermented with lager yeast. This fermentation is a beer style with a richer malt aroma than flavor and slightly more hop flavor than aroma.
Traditionally it is brewed in March and stored in a cold environment (Lagered) until late September, when Oktoberfest actually begins.
         According to the Association of Brewers' 2004 Beer Style Guidelines, "The American style of this classic German beer is distinguished by a comparatively greater degree of hop character. Oktoberfests can range from golden to reddish-brown. Malt character should be light-toasted rather than strongly caramel (though a low level of light caramel character is acceptable). Bread or biscuit-like malt character is acceptable in aroma and flavor. Sweet maltiness should dominate over a clean, hop bitterness. The bitterness should not be aggressive or harsh. Hop aroma and flavor should be notable but at low to medium levels." The alcohol content should range between 5.3-5.9% by volume.
Oktoberfest – The Food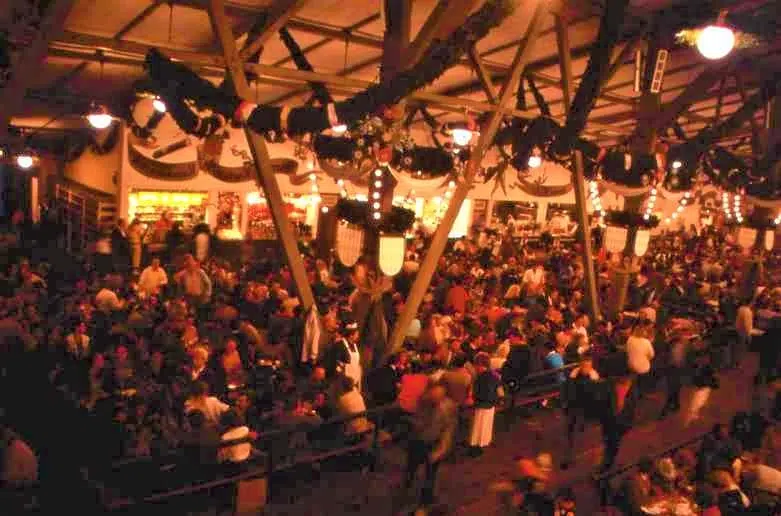 The foods traditionally served at Oktoberfest are simple and usually hand-held.
Sausages, or wursts, are the staple of most of the "tents." Each brewery has a "tent" at the event. These are actually portable beer halls that can hold over one thousand people. And each has its unique food. For example, the Augustiner tent features steckerlfisch, whole mackerel roasted in spices. The Spaten Schottenhamel tent, which seats some 9,300 features oxen, roasted on a spit.
It is most important to keep in mind that everything about Oktoberfest is casual and festive. From the beers to the food, all is meant to be easy to enjoy.
Oktoberfest beer is rich and slightly sweet, so it pairs best with roasted or grilled foods; as noted previously, chicken, sausages, beef, and (for the adventurous) roasted mackerel.
The Foods of Oktoberfest
Steckerlfisch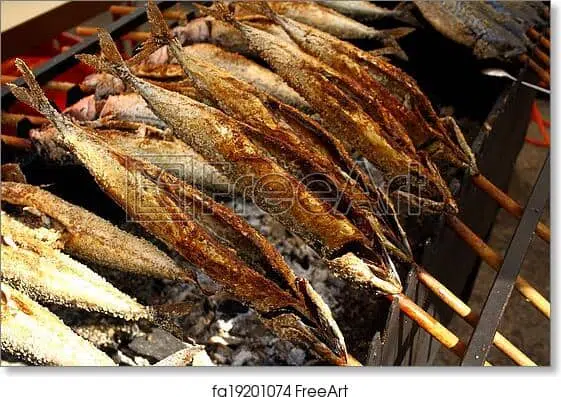 The work Steckerl comes from the Bavarian dialect for "little stick." Fish from the local lakes and rivers was used at first. But as transport improved, herring and mackerel became more popular. Today, the mackerel is the most popular of the two. The stick is inserted lengthways up the fish, so it can be angled over a charcoal fire. This technique allows the fat to run down the stick and not onto the fire.
The Wursts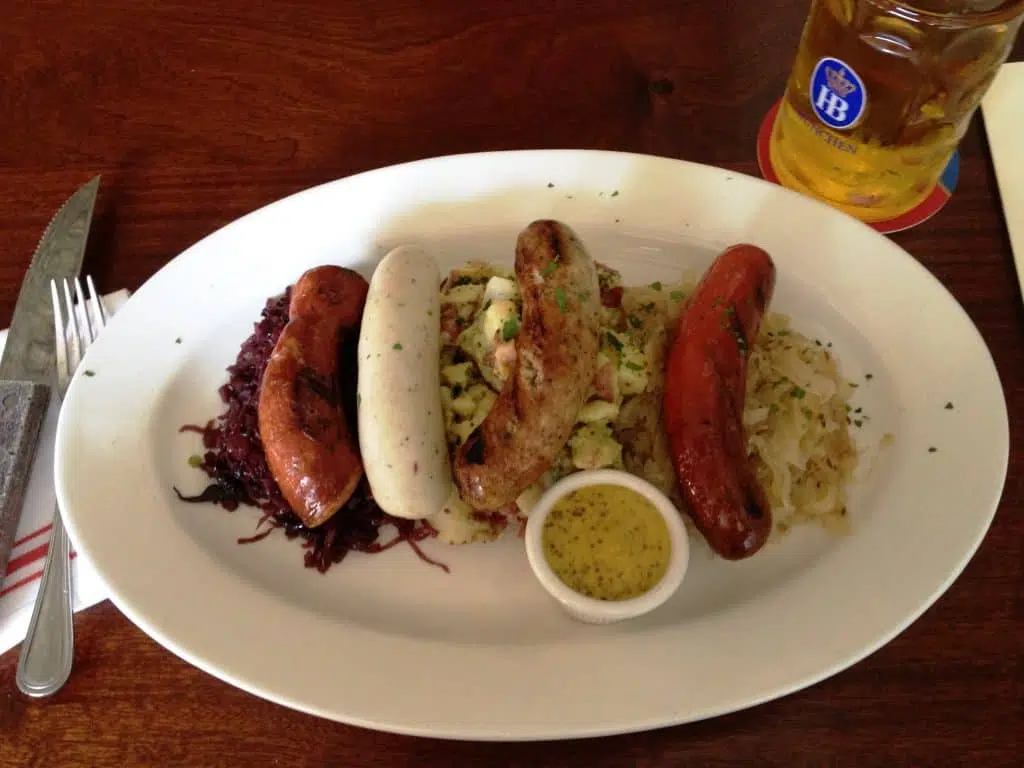 Almost all wurst features pork (and sometimes beef or veal), spices, and peppercorns. Still, other unique ingredients make each sausage distinctive.
Here are a few of them:
Bierschinken – is a large sausage with chunks of ham and pistachios.
Bierwurst – coarse-textured sausage flavored with juniper berries and cardamom.
Blutwurst – blood sausage, is eaten sliced and cold or fried like black pudding.
Bockwurst – usually made from finely ground veal; spiced with chives and parsley. Then gently heated in liquid before eating. Traditionally served with Bock beer, especially in the spring.
Bratwurst – a pale, smoked sausage made of finely minced veal, pork, ginger, nutmeg, and other spices; usually sold raw and must be cooked by boiling or grilling. (Precooked bratwurst is also available. This only needs to be reheated before serving)
Braunschweiger – The best known of the liver sausages. It is a spread-able smoked liver sausage enriched with eggs and milk.
Frankfurter – the genuine German variety contains finely chopped lean pork and salted bacon fat. It is a smoked sausage and should be reheated by simmering in beer.
Knockwurst – This is a short, plump smoked sausage containing finely minced lean pork, beef, spices, and garlic. This sausage should be poached or grilled.
Wienerwurst – believed to be the origin of American frankfurter; beef and pork flavored with coriander and garlic.
And last, but not least…
Munich Weisswurst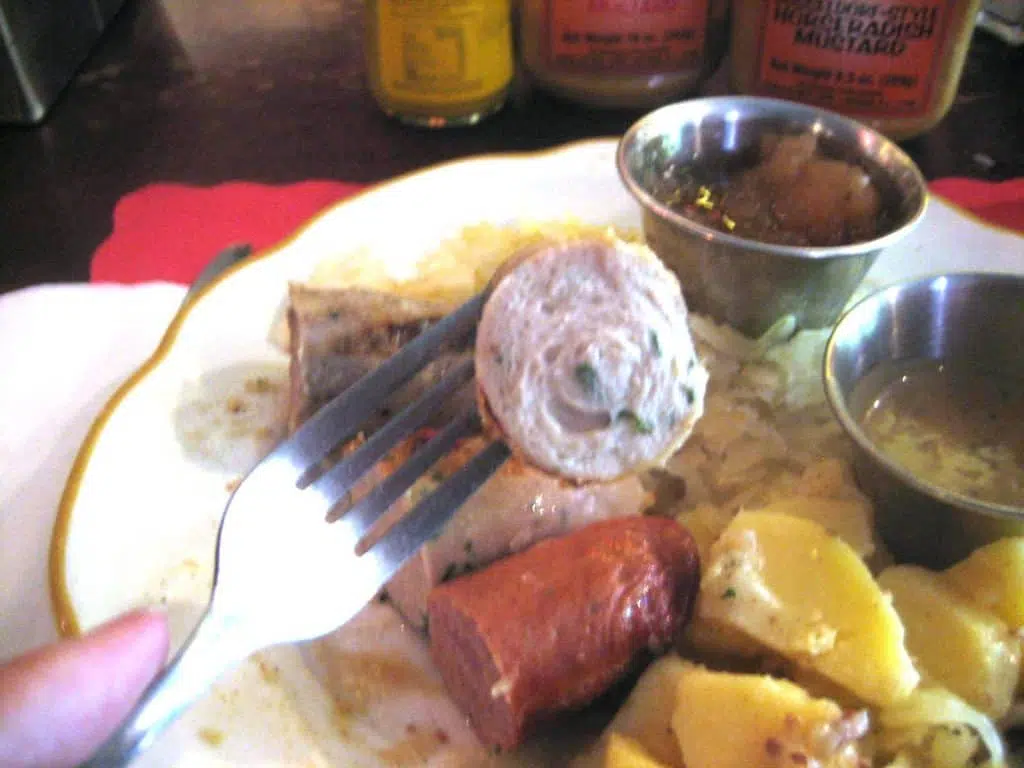 According to the Munich City website, "The Munich "Weisswurst" (White sausage) is a real Bavarian specialty. Created in Munich by a young butcher called Sepp Moser in 1857. This delicacy was discovered by accident."
"On "Fasching Sunday" (Mardi Gras) February 22, 1857, he was working in the kitchen of the restaurant "Zum ewigen Licht" next to his butcher's shop. He had used the last of the thick sausage skin used to make the normal sausages. The guests in the restaurant were waiting for their meal and shouted their displeasure."
"To solve the problem, he used the only other skin he had, which was thin, filling the sausage. He worried that the skin would burst open during frying, so he put the sausages in hot water for 10 minutes to cook them."
"When he took the "Weisswurst" to the guests, there were some comments, but after tasting the new sausage, instead of abuse and criticism, he was heaped with praise and congratulations. The Munich "Weisswurst" was born."
"The original recipe, still followed today, is lean calf meat, bacon, herbs and spices, the freshness of a lemon and parsley, the soul of the sausage."
My Oktoberfest – Munich 1988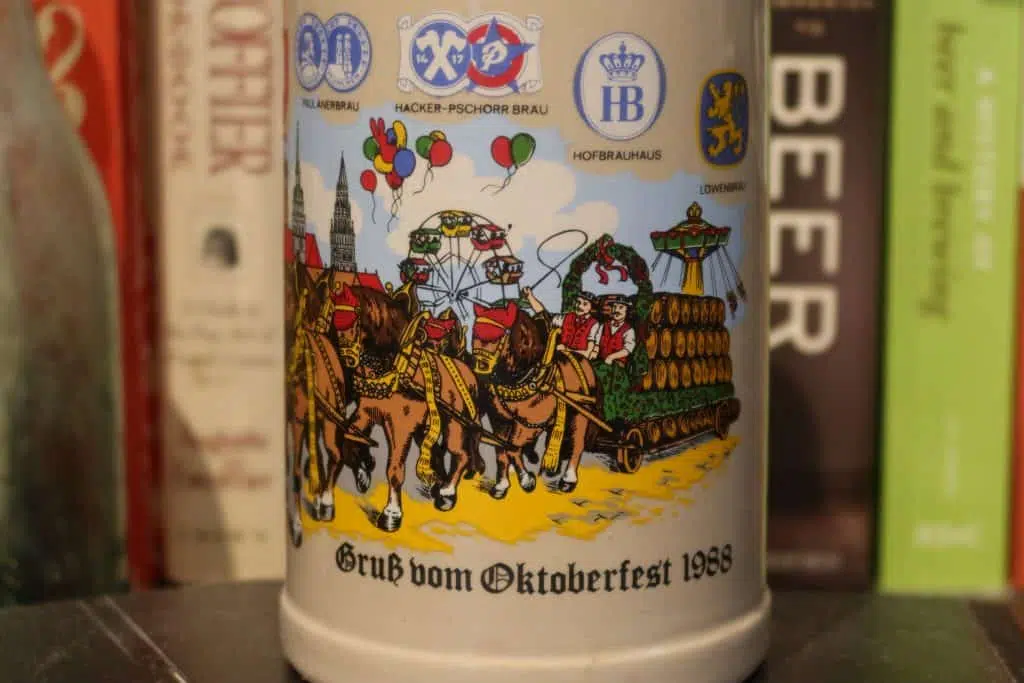 How I Got There
My chance came in 1988 when I was a "body-on-the-plane" for Travel Agent Magazine.
I was a freelance writer assigned by Travel Agent's editor to be part of a "Fam Trip," short for Familiarization Trip,  also known as a Press Trip.
A Press Trip is sponsored by either a national or local government, and trade publications are almost compelled to have someone available to cover the story or get dropped from the contact list for that organization
In my case, I was the guest of Pan Am Airlines and the Eurail Organization.
The itinerary included taking the trains from Switzerland, into Austria, and finally into Bavaria, Germany, on the second day of the original "Oktoberfest" held on the last week of September.
Oktoberfest 1988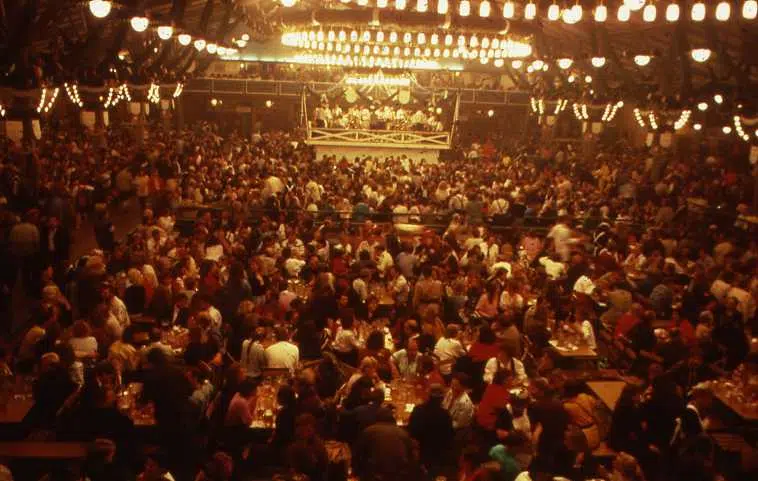 The event is held in an area twice the size of the famous Sheep Meadow in New York city's Central Park. The "Tents" where each of the "Holy Six" Munich breweries pour their beers were more like aircraft hangers than what an average person would call a tent. They were big enough to have room for at least two bandstands and an area for roasting foods. The communal tables holding twenty or thirty thirsty drinkers require reservations, and you had best expect to spend at least two hours at the table eating and drinking.
It was a time before iPhones and hand-held communication devices. My working equipment included a mini-cassette tape recorder with a dozen blank cassettes waiting to be used, a Nikon 35 mm camera with three lenses, a dozen boxes of 35mm color chrome film, and six rolls of Tri-X black and white film. All of this was carried in a camera bag the size of a small backpack. Thus, equipped, I found myself about to experience Oktoberfest.
Not only that, I thought I looked the part. As it was autumn, my attire was a blue blazer, white shirt, red silk tie, khaki trousers, and plain-toed black shoes, wrapped in a tan trench coat and topped with a brown wide-brim felt fedora. The spitting image of a journalist!
What it felt like.
The first impression is that of its size. The "Fairway" seems to go on forever, but it finally ends at the dreaded triple-loop roller coaster site.
Naturally, we were escorted by a native Munchner. She was sure to point out the most interesting "finger food" and the most interesting food kiosk.
There was an upbeat hum to the atmosphere but nothing frantic. If anything, there was a contact beer-buzz.
We had reservations on the balcony of the Spaten Schottenhamel Hall. Once ensconced at our table of twelve, it was time for liters of Spaten Oktoberfest and plates of sausages.
After that, we split into smaller groups and ventured forth into the Nighttime Oktoberfest.
There is a transformation of Oktoberfest once the sun goes down.
The flashing white strobe lights compete with the flickering neon lights' rhythmic motions that wreath the various gaming booths.
With the food stands and general gemutlich (pleasant and cheerful) atmosphere that is part of the festival, all of this exciting environment left an indelible imprint of good fun on my memory.
We spent most of that afternoon, and a good slice of the evening, exploring the beerhalls and watching the games of chance, and sampling grilled beef, fish, and sausage. Most of the folks attending seemed to be of good nature to spend a good deal of time enjoying both beer and food without proving either their masculinity or femininity. Or their ability to consume mass quantities of fermented malt beverages. Naturally, there were fewer tourists from English-speaking nations that seemed to have less self-control.
And then there was the Triple-Loop.
This rollercoaster lurked at the end of the fairway.
There is an urban legend that says that the last words on the voice-recorder tapes in the black boxes of crashed planes are always, "Oh shit!".
While wandering down the fairway with the tour guide and a buddy of mine, I had my micro-recorder on and interviewed them and made my one verbal notes. To make this easier and gather ambient sounds, I had the small recorder securely attached to my trench coat's lapel. We discussed taking a ride on the Triple-Loop and finally decided to do it. We paid our fairs and were strapped into our seats. The ride started soon to gather speed and the first loop was imminent. Going up, I  inhaled deeply. On the rush upside down, my mini-recorder ran out of tape while recording me loudly proclaiming, "Oh Shit!"
After one more mass (liter), we called it a night and returned to the hotel, luckily only a few blocks away.
That's my story, and I stand by it.
The Old Growler Tastes Some Marzens.
The following are two examples of Oktoberfest brews produced in the United States. Your comments are encouraged.
Urban South Oktoberfest Marzen Lager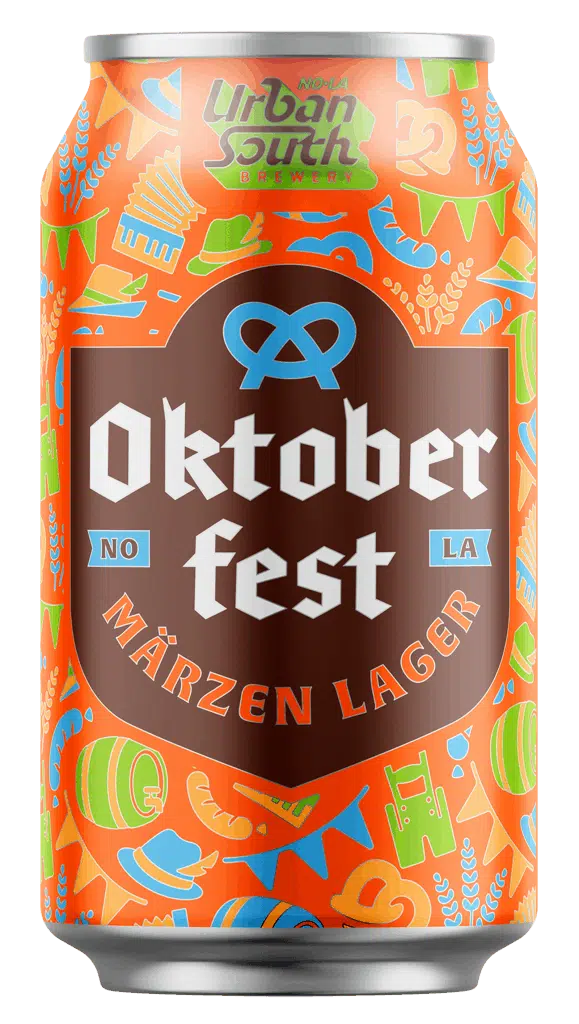 Urban South Oktoberfest Marzen Lager 6.5% ABV
According to the folks at Urban South…
"Oktoberfest is a traditional Marzen lager brewed for the fall season. Rich, sweet malt gives way to crisp, clean lager finish!"
"ABV 6.5%"
"IBU 15"
For more information click on the following
https://urbansouthbrewery.com/beers/okt
Next is my favorite:
Founders Oktoberfest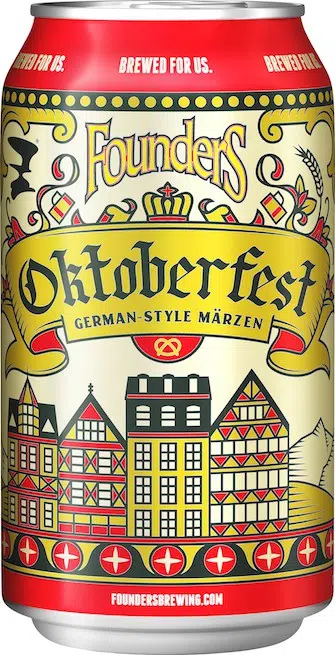 Founders Oktoberfest German-Style Marzen
ABV:        6.0%
IBUs:        20
Availability:      Aug-Sep
"Blink, and you'll think you're in Bavaria. We went all-in on tradition with our Oktoberfest, using imported German malts and hops with beautiful lager yeast for the finish. Pours a gorgeous copper hue with a rich, malty, and a slightly sweet backbone. Our version is akin to the beer poured in the early days of Oktoberfest. Yes, it adheres to the Reinheitsgebot. Prost!"
Link to The Above Description –
My Observations:
This was an excellent copy of the Oktoberfest-style beers I tasted in 1988 when I visited the Oktoberfest in Munich, Germany. It is not as bitter as the typical American-Style Oktoberfest. The result is that I wished I had been gulping a whole "Mass" (liter) of the brew while doing this tasting. Of course, then it would have been something other than a "tasting."
The Holy Six Munich Breweries:
• Augustiner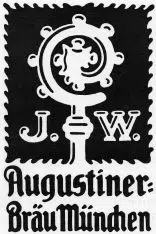 Munich's oldest brewery was founded in 1328. In the United States, Augustiner sells its Helles lager in limited quantities, but not its Oktoberfest.
• Hacker-Pschorr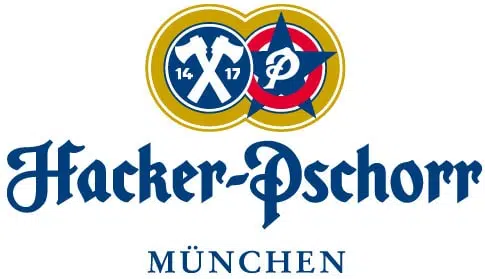 This brewery brews an Oktoberfest with the traditional reddish-bronze color. It is available in most major American cities.
• Hofbräuhaus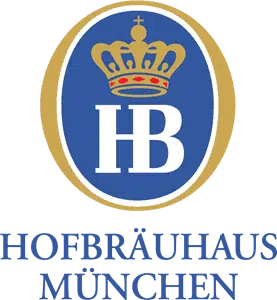 Today, this brewery is owned by the State of Bavaria. Its Oktoberfest can be challenging to find here in the United States.
• Löwenbräu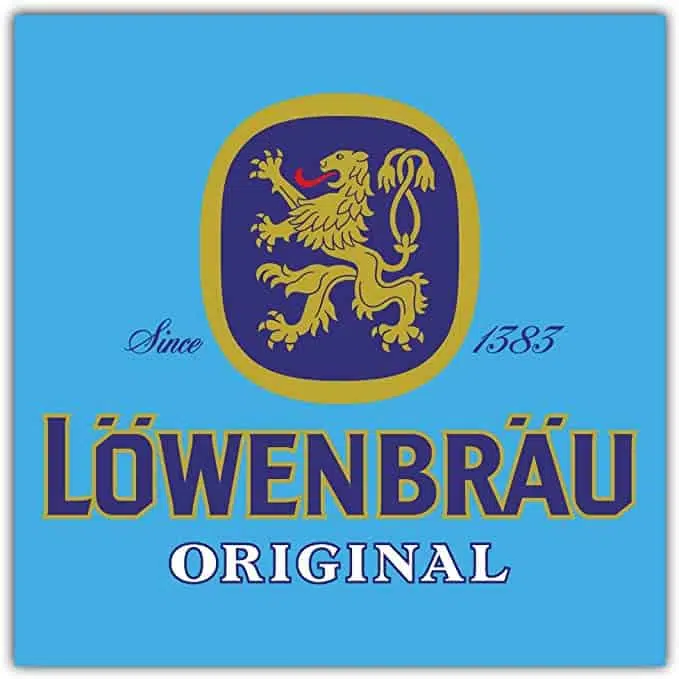 Three years ago, Löwenbräu began shipping some of its beer from Munich to the U.S.,  but not its Oktoberfest.
• Paulaner
Paulaner Märzen/Oktoberfest is Germany's most famous Oktoberfest beer and can be found in most markets in the U.S.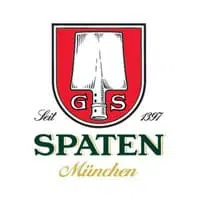 Spaten's Oktoberfest beer has the distinction of being the first tapped at each year's festival. It is available in most markets in the United States.
In Conclusion –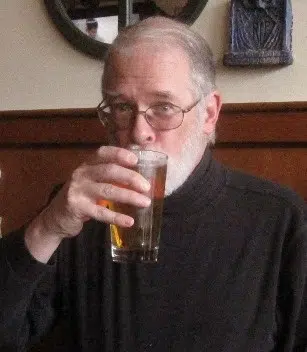 I am lucky, in that I am a Libra, on the cusp. That means I celebrate my birthday with Oktoberfest. That gives it a double meaning. The first is the celebration of the harvest and an anticipation of the cold winter to come. The second, especially for me, is the bowing to the passing of time. And I can assure you, that is a sobering thought that needs to be properly balanced out.
Additionally, it is a moment that I try to remember traveling companions and the adventures we had back in 1988, that is, thirty-three years ago. It was a time I had to carry a camera bag. It was a time of learning, discovering, and meeting some fascinating people.
In short, Oktoberfest, is to me, a beer, special foods, and good memories.