About Peter Egelston
"Peter grew up in California but moved to New York where he earned a degree in Spanish Literature at NYU. In 1984 he quit his job as a hotel doorman and took a more "dignified" position – at half the pay – teaching in a large public high school in Brooklyn. Two years later his sister Janet talked him into joining her in Massachusetts where they would open what is now the oldest brewpub in the northeast: the Northampton Brewery, where Peter served as head brewer until 1991, the year they opened the Portsmouth Brewery. In 1993, he attended the auction of the bankrupt Frank Jones Brewing Company where he ended up purchasing the brewery that was to become Smuttynose Brewing Co., which he ran until 2018. Peter and his sister remained business partners until 2000. She is now the sole owner of the Northampton Brewery, and he and his partner Joanne are proprietors of the Portsmouth Brewery." (3)
Or you can read the interview here:
Peter Egelston Interview at the Portsmouth Brewery in Portsmouth, NH
Old Growler: Well, hello there! I'm Pete LaFrance, the Old Growler, and here we are at the Portsmouth Brewery in Portsmouth, New Hampshire. And I'm going to be talking to Peter Egelston, the owner.
Peter Egelston: Hey, how are you doing?
The True History of the Portsmouth Brewery
Old Growler: Great! Give me a brief history of the Portsmouth Brewery for the last 30 years.
Peter Egelston: Ok, I'm being asked to cover 30 years. Briefly, I'll do the best I can. The Portsmouth Brewery is actually the second Brewpub that my partners, former partners, and I opened. The first place we opened was the Northampton Brewery in western Massachusetts. After we'd been open there…which was in 1987. After we'd been open there for about a year, we realized that we were on to something interesting…and something good. So we started looking around for a 2nd location. And it wasn't until 1990 that someone suggested we take a look at Portsmouth.
We'd never heard of Portsmouth before, but we were here for 10 minutes and realized that this is where we were meant to be all along. When we came to town in 1990, Portsmouth still had some rough edges. It was a military town with the Navy Yard and the Air Force Base and all that goes along. It was also a very notorious liberty port for people in the Navy.
But by the time we got here, it was starting to become more of what it is today, a very vibrant tourist destination and a very diversified local economy. When we opened the Portsmouth Brewery, we were the first licensed brewery in New Hampshire. After Anheuser Busch opened its facility in 1972 in Merrimack.  So we really did bring craft beer to New Hampshire.
I'll tell you a little anecdote that, to me, sort of encapsulates what we were up against in the very early days. When the place was still under construction, the door opened one day, and a fellow poked his head in the door and introduced himself as the sales representative for the local Anheuser Busch distributorship. He was calling on us to see when we'd be ready to put in our first Budweiser order.
We told him that we were actually going to be making our own beers and weren't serving Budweiser or any other domestically produced beers other than our own. And he paused for a moment, and then he kind of snorted, literally snorted in derision, and he said, "hah! You guys aren't gonna be selling Budweiser? You're never gonna stay in business!"
I'm happy to say that we're still here thirty years later, and we've never sold any Budweiser. And you know, all due respect to Budweiser, I've nothing against a light style Pilsner beer. It just wasn't our thing, and it wasn't then, and it isn't now. But we've evolved over three decades. We've grown as the community around us has developed. We've evolved as peoples' tastes' have evolved. Yet, I think what we really have going for us more than anything else is that we're familiar and comfortable with our customers. So we walk a fine line between wanting to evolve, staying fresh and in the new, and staying comfortable and familiar. And that's been our big challenge for quite a long time.
The Portsmouth Brewery Key to Success
Old Growler: What is the "corporate culture" here at the brewery?
Peter Egelston: Um, the corporate culture here at the brewery. I've been thinking about that, believe it or not, especially with new staff on board. We used to be able to do things intuitively and figure that everyone just knew what we were all about. And I don't know that we can really take that for granted so much anymore. I'm not sure it was a good idea to ever take it for granted, but I guess I would say a few things.
First of all, our goal is very simple. Our goal is simply to do everything we can to make sure that people who walk out our door want to return. And that involves empowering our staff to operate with a certain amount of autonomy and to use their judgment in helping people do what they came here to do in the first place. Which is to enjoy themselves and have a good time. One of our challenges is that people walk in our door predisposed to have a good time. One of our tasks is to not screw it up and make sure that people enjoy themselves. Because it's a restaurant, and there's a fair amount of operational complexity, we do have systems. We need to queue our systems pretty carefully for things to work well. On the one hand, we're asking our staff to operate with a certain amount of autonomy, being able to solve problems and use their judgment and interact with guests in a way that we can meet our goal, but also to operate within systems so that we can do what we do consistently…and I don't know if I answered that question or not, but that's my answer. And I'm sticking with it. (laughs)
Old Growler: Due to the situation over the last sixteen months, what are the keys you used to survive the pandemic?
Peter Egelston: Yeah, the last sixteen months have been a challenge for us and everybody else. There are several things that we did. Early on, we were required to close our doors to all but takeout business. We did something that really hurt….we basically furloughed our entire staff except for two. I was on furlough myself. But we had 2 people who ran our kitchen and our front of the house doing takeout. And that lasted for about…about 2 months. That was part of it….some of the relief funds that we got through PPP loan, uh, through SBA, economic impact disaster loan, and a couple of grants administered by the state of NH. On a practical basis, if it weren't for that relief funding, we would have closed our doors a long, long time ago. So I don't want that gone unsaid, how critical that was for us. But I also think that a big piece of it was always trying to stay positive and confident that we and all of our other colleagues in the hospitality business here in Portsmouth would make it through this. And uh, for the most part, I think we've… we've… all of us have done a pretty good job. I don't know that there's anything that we at the Portsmouth Brewery did that was particularly different from what any other restaurant here in town, or frankly across the country has done, um. Still, I think for us, probably the biggest thing about it is to try to remain as positive as possible.
Old Growler: What are you looking for…say, over the next year, what are you looking forward to accomplishing?
Peter Egelston: I would love to see us find all the things that we have been required to be creative about and kind of sift through all of that stuff and see what's there that actually is something we can carry forward into the next phase. And I'll give a very concrete example- we've been closed on and off over the last year and a half. This past winter, we found ourselves closing kind of unexpectedly at the drop of a hat because we would have staff who would be diagnosed with Coronavirus. And we'd all have to go into quarantine and close the place down, and close down for a week, 10 days, whatever it would take to get through the quarantine. We reopened in April, and we decided we would reopen 7 days a week. Just like we'd done for twenty-nine years before that, when we were running this place 363 days a year, closed only on Thanksgiving and Christmas days. And then by um, I don't know, a month and a half ago, we realized we just didn't have enough staff to offer the best service we could 7 days a week. So we went back to running six days a week, so we're closed on Tuesdays. I happen to LIKE being closed 1 day a week, now our bank account doesn't like being closed 1 day a week. And one of the things I really, really, hope we can figure out how to do, and I hope we're successful… is to figure out a way to have that one day off to where we can take a breather. When we can come into this old building and do maintenance on it, or where people can arrange their schedules so that maybe they have a three-day weekend from time to time. However, if we can do that and do it in a financially viable way, I would love to stay closed 1 day a week. I really would. So um, what was the question again? (laughs)
The Portsmouth Brewery Thirty Year Plan
Old Growler: What are you looking forward to as far as the next sixteen  months, what's going to be the goal, the accomplishments now?
Peter Egelston: Ok. Alright, thank you. I uh..so yeah… so that is one of the goals. And I used the business about being closed one day a week as a very specific example. But I think that we're going to find that there are other things too that we've started to put in place, partly in response to the situation with the pandemic, but in some ways forced our hand, and forcing us to take a fresh look at the new technologies that are available or ways that we interact with our guests or how we train our staff. So that's part of it. And as we um, celebrate our 30 years in this business, um to really think creatively about…and I know it sounds a bit abstract at this point. They made a joke during the little reception we had on our actual 30th anniversary that my partner Joanne and I would be here in another 30 years celebrating our 60th anniversary. I'm not so sure about that, although I would love it if someone were here celebrating this place's 60th anniversary. What would that be, the year 2051? That would be great, and I guess maybe that's another way of answering that question is to see if there's a path forward where one could actually conceive of a place like the Portsmouth Brewery, which is 30 years old now to go for another 3 decades. I like that idea. I'm not sure I wanna be around here when I'm 92, but you never know. It could happen, I guess!
Old Growler: Super! Well, this is the old growler, sitting outside of the Portsmouth brewery with Peter Egelston and wishing all of your beers meet your expectations.
An Introduction to the Portsmouth Brewery
"Welcome to New Hampshire's original brewpub, a landmark in downtown Portsmouth's thriving restaurant scene since 1991. Our wide-ranging menu is complemented by a selection of our own unique, hand-crafted beers, as well as selected guest beers, including hard-to-find selections from our sister company, Smuttynose Brewing Co. Come for the beer. Stay for the food. We serve all types!"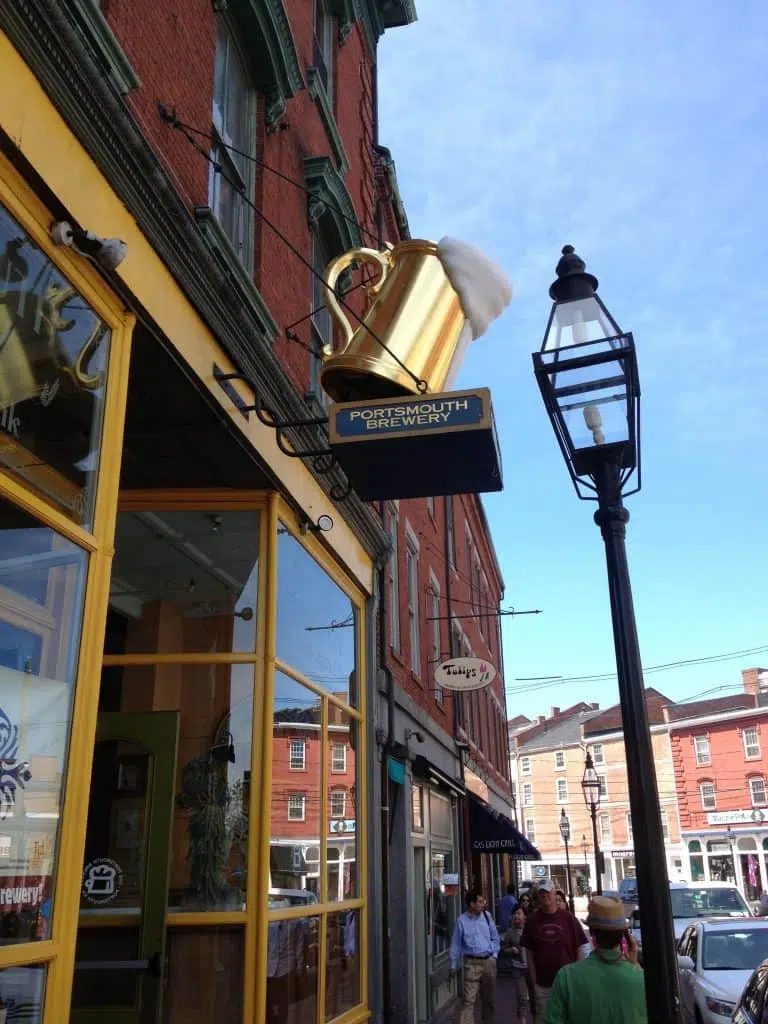 The History of The Portsmouth Brewery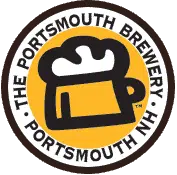 Co-founder Peter Egelston remembers that back in 1991, Portsmouth was a gritty seaside town with lots of potential: "My sister, Janet, and I started looking for a second location shortly after we opened the Northampton Brewery in Massachusetts in 1987.
"After two years of frustration, we stumbled across Portsmouth and knew immediately that it was where we were meant to be all along. We hired a local architect and contractor for the challenging task of designing and building a restaurant and brewery in the historic downtown space we'd purchased. Because brewing beer on-premise was something most people had never heard of at the time, we put our brewhouse in the dining room behind glass, visible to our guests."
Established in 1991. The Portsmouth Brewery, New Hampshire's first brewpub, opened in 1991, but our roots go back to 1987, when the company's founders, brother, and sister Peter and Janet Egelston, opened the Northampton Brewery, one of the first brewpubs in the northeast, in western Massachusetts. At the Brewery we take as much pride in our food as in our beers, preparing everything from scratch. Wherever possible, we use locally grown ingredients & offer a wide selection of vegetarian items. Always seeking ways to reduce our footprint, we recycle paper, glass, plastic, and metal, and compost our food waste. We are proud to be part of downtown Portsmouth's outstanding restaurant community and we take great pleasure in serving you. (1)
The Portsmouth Brewery Celebrates their 30th Anniversary
The Portsmouth Brewery, New Hampshire's first licensed craft brewery, recently celebrated its 30th anniversary.
New Hampshire Governor Chris Sununu helped mark the occasion by jumping behind the bar and pouring beers for patrons at a birthday gathering on June 1. With a pint of "Libeeration" in his hand, Sununu toasted co-owners Egelston and his partner, Joanne Francis, and the staff, "Thirty years is an amazing feat," said Sununu. "You don't get there without an amazing team."
Governor Sununu noted that he understands the post-COVID challenges for restaurants, including the labor shortage, an issue that has forced many restaurants to limit their hours because they are understaffed.  Said Sununu, "Unemployment is crazy low – 2.7% – the lowest in the country."  
In his remarks at the gathering, Egelston shared how emotional this milestone is for him: "It's so meaningful for me – for people to make this a stop on the journey of life. It's hard to imagine that 30 years have gone by. It's been a great ride and we're so proud we've been able to provide this space for people to come together."
Egelston credits a desire to remain true to their principles as a factor in the Brewery's success: "We are first and foremost a public house, in the truest sense of the word – a place of public gathering for people of all ages and persuasions. We have always strived to set deep roots in our community, to source quality ingredients, to make as much as we can by hand, to use sustainable practices, and to encourage our brewers to be creative and original."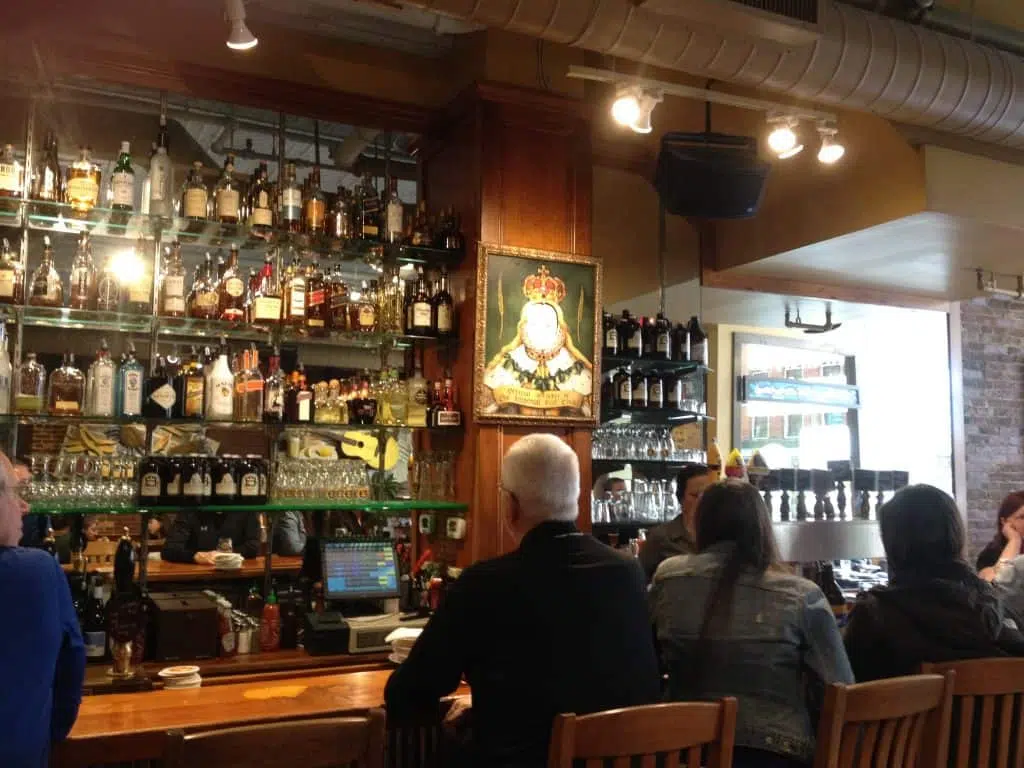 Egelston's partner, Joanne Francis, helped provide the creative design sensibility that has become iconic.  "We serve all types" – the motto she coined before the Brewery even opened its doors – continues to guide the company.
Thirty years ago Francis would hunt for antique photos and prints that provided a vintage feel for the Brewery's branding, in addition to working with talented local artists like Dan Gair and Dan Blakeslee. 
Says Francis, "Working for a brewery/restaurant was an opportunity to have extra fun. We were all young and full of beans and definitely pushed the envelope – but it worked! Our style has always been offbeat yet accessible, which speaks to our personalities and our desire to create a friendly experience, where it's not just the great beer, food, and atmosphere, but a place to make lifelong connections, too."
The Portsmouth Brewery also pushed the envelope on its menu from the get-go: offering vegetarian items, which was a breakout concept for a brewpub at the time. (2)
The Brew House Q&A
Q: How much beer do you brew in a batch at the Portsmouth Brewery?
A: We brew in seven-barrel (217 gallons) batches – the equivalent of 14 kegs or about 1,700 pints of beer.
Q: How much beer do you brew in a year?
A: We make around 1,200 barrels a year. This is about 37,000 gallons or 300,000 pints' worth. Placed side-by-side, that would form a line of beer glasses that would stretch from our front door all the way to Seabrook, over sixteen miles away!
Q: How often do you brew?
A: Typically, between 3 and 4 times a week, depending on the season. The rest of the time, we're cleaning, doing transfers, or filling cans.
Q: How do you package your beer?
A: We put limited amounts of beer in 16-ounce cans and 32-ounce refillable "squealers" which are available in our retail store and at the bar. (4)
The Green Side of The Portsmouth Brewery:
What They Compost
All food scraps, including bones, shells, pits, fruit, seafood
Used napkins
Paper towels – soiled & unsoiled
Wax paper
Compostable straws
To-go containers & compostable implements
Tea bags
Milk & juice cartons
Compostable kiddie cups
Corks
Coffee grounds & filters
Sugar packets
Pizza boxes
Wooden toothpicks
Flowers
Paper ice cream cartons
What is Used for Farm Animal Feed
Spent malt & hops from brewing process
What They Recycle
Thermal paper
Office paper
Worn-out coasters
Newsprint
Wrapping paper
Cardboard
All glass
All metal
All non-compostable plastic
Fryolator oil
(5)
SOURCES:
1) https://www.yelp.com/biz/the-portsmouth-brewery-portsmouth
2) https://portsmouthbrewery.com/
3) https://www.yelp.com/biz/the-portsmouth-brewery-portsmouth
4) https://portsmouthbrewery.com/about-us/faqs/