What is a Cicerone?
According to Wikipedia, a Cicerone is:
"A beer sommelier, also called a cicerone, is a trained professional, working in the hospitality and alcoholic beverage industry, who specializes in the service and knowledge of beer. The knowledge required for certification includes an understanding of styles, brewing, ingredients, history of beer and brewing, glassware, beer service, draught systems, beer tasting, and food pairings. The profession is relatively new but growing."
Read the entire wiki article here.
What is a Sommelier?
A sommelier, or wine steward, is a trained and knowledgeable wine professional. He specializes in all aspects of wine service as well as wine and food pairing. Sommeliers Australia states that the role is strategically on par with that of the chef de cuisine.
What brought a Cicerone and a Sommelier together?
It almost by accident that we got to know each other.
From the beginning of the Covid-19 pandemic, I began posting pictures of homemade dishes on social media, especially Facebook and Instagram. A few of these pictures caught the attention of Fred. He sent me a Facebook message that the wine glasses I was using could be improved on. The next day two white wine glasses appeared outside my apartment door. They were from Dex.
Naturally, I thanked him and offered him two beer glasses in return. Before he could answer, we met by chance in the lobby of our building. It seems we have been neighbors for many years but never connected. During that conversation, I asked him if he would be interested in doing a beer tasting with me on a bench outside on the grassy area around our apartment building. He agreed, and this video is the recording of that tasting.
The Beer: Fuller's Vintage 1997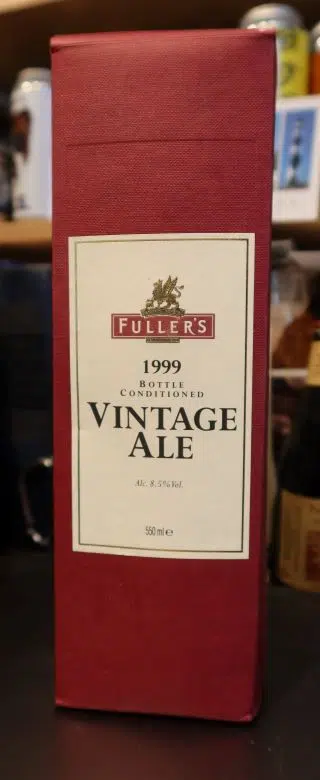 The folks at Fuller's Brewery have the following posted on the box that the beer bottle came in.
Fuller's Vintage Ale 1997
ABV – 8.5%
"I have crafted this very special ale from the current champion malted barley and hops, and of course our unique yeast, to create a truly extraordinary limited-edition brew individually packed and numbered, this bottle is one of only 85,000 produced."
"Mellow and Golden, it will improve with age and for best results should be matured in a cool room or seller."
"Bing bottled conditioned, it forms a natural settlement, so pour carefully, sit back and enjoy this, a very finest of Fuller's ales."
Special Note: This bottle was one of three Fuller's Vintage Ales given to me by brewer Jamie Jurado. They were given to him by the head brewer at Fuller's when they were released.
About Fred Dex:
Fred is one of just 269 Master Sommeliers in the world, a title he achieved in 2007.
The following is a brief biography from the StarChefs web site.
New York, NY – October 2018
"Fresh out of high school, Fred Dexheimer worked jobs in seasonal resort destinations like Nantucket and Jackson Hole. But a knack for the nuances and nerdier aspects of all things wine gave him the skills he needed to land a job at the famed cellar of Daniel in New York City. From that prestigious point of entry, Dexheimer worked the front lines at Gramercy Tavern and the BLT Restaurant Group, where he won a StarChefs Rising Stars Award in 2005."
"After adding the Master Sommelier pin to his lapel (err, t-shirt), Dexheimer founded wine and beverage company Juiceman Consulting in 2009. His industry impact continued to expand with clients such as Wines of Chile, Wines of Southwest France, and StarChefs, for whom Dexheimer emceed the Somm Slam at the Chefs Congress from 2011 to 2018. He brought a mixture of fun and gravitas to the annual event, making it an eagerly anticipated one for wine professionals each year."
"After opening restaurants in North Carolina, Dexheimer returned to New York City for a post at The Winebow Group, heading up the distribution of established and emerging wine labels across the United States. In late 2018, he signed on to craft cocktails for Playboy Club New York. Dexheimer also is an adjunct wine educator at the International Culinary Center and has contributed to The New York Times, Wine Spectator, Food & Wine, Bon Appétit, and People. He is one of only 269 Master Sommeliers within the Court of Sommeliers in the world."
What made this beer tasting special?
The chance to share a beer is always a special event. This was even more true when it allows you to discover nuances that you might have missed before.
In this case, it was interesting to hear what a wine expert thought of a classic beer.
His view of this view was interesting to listen to because his vocabulary, based on wine appreciation, expanded my vocabulary as well. His ability to detect almost hidden nuances was impressive.
I learned to look for flavors that I often overlooked in the past.
 I hope you enjoy this video as much as we enjoyed tasting the Fuller's Vintage 1997 Bottle Conditioned Vintage Ale.