According to the primary website posting
"Hairless Dog Brewing was founded by two beer-loving friends who quit drinking, but not living.
We're the first domestic US 0.0% ABV craft beer brand, with truly alcohol-free products. Our brews are flavor-forward, so you celebrate an active social life while making healthy choices.
Our brews are for anyone. Whether you still enjoy traditional beers but sometimes want the flavor profile without the alcohol, or you work from home, are pregnant, a first responder on-call or you've simply left alcohol behind for better health. Whatever your story, Hairless Dog is here for you to enjoy with  0% alcohol and 0.0% regrets."
https://www.drinkhairlessdog.com/about-us
A Chat with The Hairless dog Brewing Co. Founders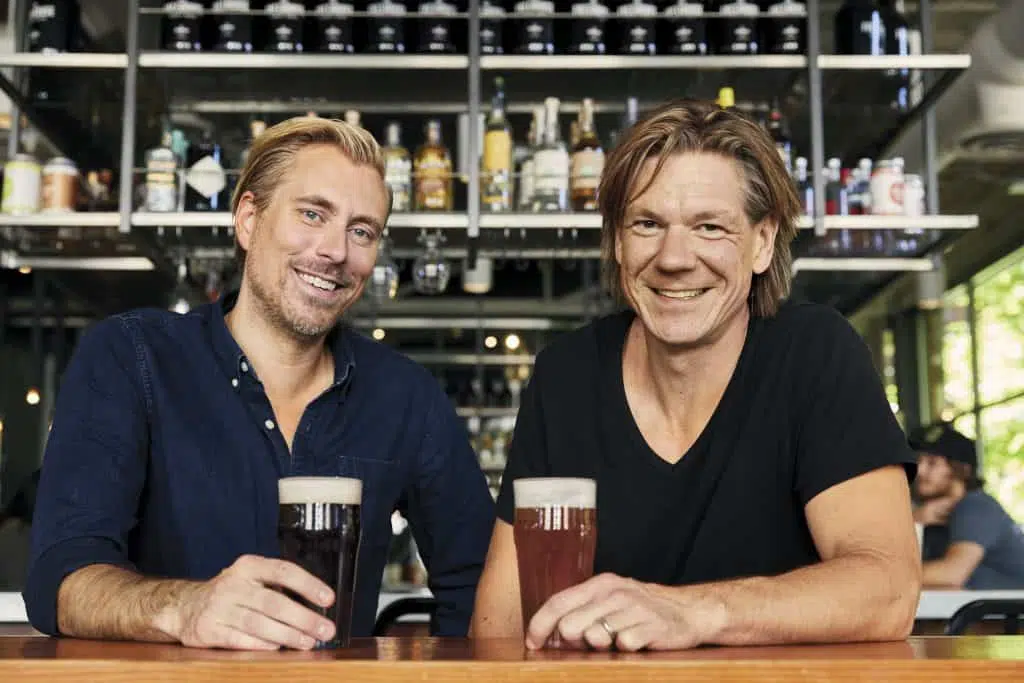 The Old Growler: Who conceived of the idea of starting Hairless Dog?
The Hairless Dog: The idea came to us (Jeff and Paul) after reconnecting at a holiday party and realizing we were the only ones not drinking alcohol. This prompted a conversation about the lack of delicious NA options currently on the market. After a follow-up coffee meeting, the idea to craft the world's first true 0.0% craft brew was born.
The Old Growler: What brewing background do you have?
The Hairless Dog: Paul has old family friends that own the Alexis Bailly vineyard here in Minneapolis, and he spent a lot of time there growing up; that was his first exposure to a large enterprise and a "do it yourself" craftsmanship that defied common knowledge ("wine in Minnesota?"). Paul started homebrewing and making wine about 25 years ago when craft brews were relatively new in the area. When we began making NA beer, Paul modified and transferred that knowledge to a garage setup. We went to the big brewery with the help of their brewmaster.
The Old Growler: How long did it take to go from concept to becoming operational?
The Hairless Dog: We worked on recipes for a few years, starting in around 2016. Our first product hit shelves in late 2018 and sold out everywhere.
The Old Growler: What was the most challenging aspect of the execution of the initial start-up?
The Hairless Dog: Scaling from an idea that appeared to be a good one from the onset to becoming a national brand. Each decision we had made up until that point had to be scrutinized and studied. The most challenging aspect was entering an unloved, unstudied category and trying to turn it on its head with virtually no data about who the customer is and why they buy NA beer. However, since our onset, we have learned the typical Hairless Dog fan is focused on bold, craft beer flavors and is cutting back or quitting alcohol for many different reasons. They love it for what it is instead of what it isn't. They believe that sociability and drinkability do not depend on alcohol.
The Old Growler: What has been the biggest surprise so far in the story of the company?
The Hairless Dog: COVID-19 and how the team responded. What was supposed to be a massive growth year was harpooned. All plans were suddenly useless, restaurants and bars disappeared, and fear and malaise were everywhere. We're lucky to have a bunch of pros who were able to shift and support all aspects of the business together, filling holes as they appeared and bringing a lot of strategy and urgency to the company table each day. That joint pain has produced a tight-knit, highly functional group, and a really great (virtual) workspace. We're stronger and smarter because of it. Really proud of that.
The Old Growler: What went into determining the styles of your beers?
The Hairless Dog: We've always wanted to be identifiable and familiar, but different from whatever everyone else was doing, so we stuck to some pretty safe territory. We decided that our first iteration of the company would own the dark, full-bodied end of the NA spectrum. The black ale was my favorite and most familiar to homebrew, so that was the first one we developed on the NA side. This was early in the company history—self-labeling and distributing– so we weren't exactly planning ahead (and we were only available in like 9 retail locations at that point, so all the concerns of merchandising and sets and distributors didn't affect our timelines). We decided that we needed a second style and the cold weather was coming; plus, we're both big coffee drinkers, so Coffee Stout came next.
The Hairless Dog: We decided to have a big release when we moved into cans from bottles and upsized our production, so we went with the big daddy missing from our lineup: IPA. As we started expanding into the lighter end of the spectrum, we still wanted to stand out from the pack, so we brought along our Citra Lager.
The Hairless Dog: As we move into "phase two" of our development, our options are limitless. We think we're about to make big innovation in NA brewing, breaking through a lot of limitations, and look forward to finding the styles that respond best…and creating our own.
The Old Growler: How big do you hope to become?
The Hairless Dog: See above. No limits, 0.0 regrets.
The Hairless Dog Beer Tastings:
They present four distinct, flavor-forward craft non-alcoholic brews: IPA, Citra Lager, Black Ale, and Coffee Stout. I had a chance to sample two of them. After watching them keep in mind that these are NA beers and cut me some slack.
NA IPA
Our very popular IPA is where heartland malt meets West Coast hops meets 0.0% ABV. Maris Otter malt joins Cascade, Amarillo and Simcoe hops for a smooth, hoppy IPA you can enjoy beyond moderation.
https://www.drinkhairlessdog.com/brews
NA CITRA LAGER
Upfront citrus peel notes, sweet caramel malt, and earthy hops create our bold, yet refreshing Citra Lager. It's the perfect all-season, any-occasion NA brew for those seeking a lighter-bodied drink that's crisp and flavorful.
https://www.drinkhairlessdog.com/brews