Some stories have happy endings. This one is bitter-sweet.
The two men that ran the place were brilliant publicans. One stayed in the beverage alcohol business, and the other went into the teaching profession. Neither is with us today.
That said, let me introduce you to Gary (Gaz) Regan, in the middle, and Devon Black, on the right. Sal Pennacchio, New York Harbor Ale, on far left. You will be hearing from Devon later in this posting.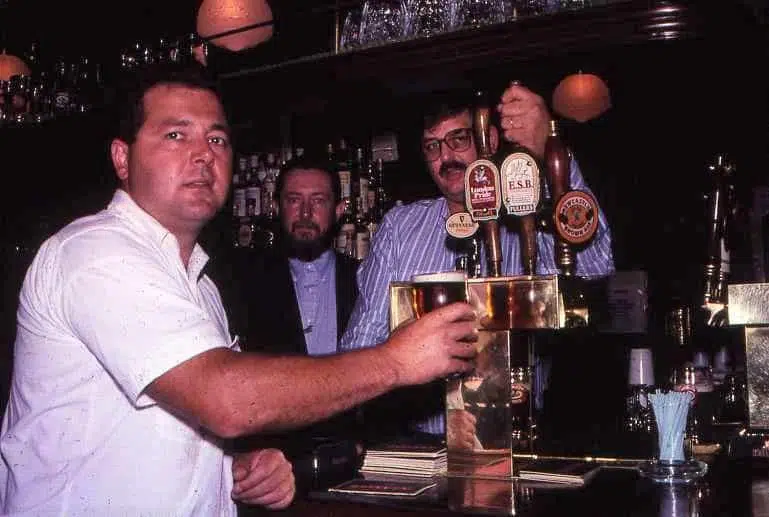 A South Street Seaport Destination
The North Star was a special place tucked away among the last of the old South Street Seaport before it was turned into a tourist mecca. Sloppy Louie's, and the Sketch Pad, both Old New York culinary meccas of a very rustic sort, were relegated to history. The North Star became a British beacon of light in an otherwise under-appreciated downtown New York City area.
Why did I go there?
I was following a bartender friend on his way to a new "home." Gary Regan had been a bartender at Drakes Drum on First Avenue in the eighties in the Upper East Side neighborhood known as Yorkville. When I lived on 65th Street, and First Avenue in the 1970s, Drake's Drum was my second home. When I learned that Gary would be involved in a British-style pub in lower Manhattan, I was very interested.
The British Invasion
The British imported beers and ales were already gaining mass appeal in New York City at that time. The most popular were Bass, Fullers and Watney's. This was also when the "Single Malt" whiskies were being marketed in the United States. And so the idea of a British-style Pub was developed and became The North Star. Let me make an important point here. This place was as British as British can be on this side of the Atlantic Ocean.
A Look Back
Let me take you back to the summer of 1978.
Manhattan Island, south of City Hall Park, was where you found mainly light industry, financial offices, law firms, and investment offices that were the heart that pumps the blood of Wall Street into the world. Yes, it was a messy place to work, wander and find a beer.
And so Sloppy Louie's slipped into the harbor, and the licenses began expiring on the Family run businesses that made up the Fulton Fish Market. In the face of these grievous losses, watering holes for the new breed of money-managers was needed.
Many of these folks were insurance and reinsurance chaps brought in from the London offices.  These were lucky blokes in that one of the most comfortable places to lift a pint or a dram was the "North Star."
The Story of The North Star Pub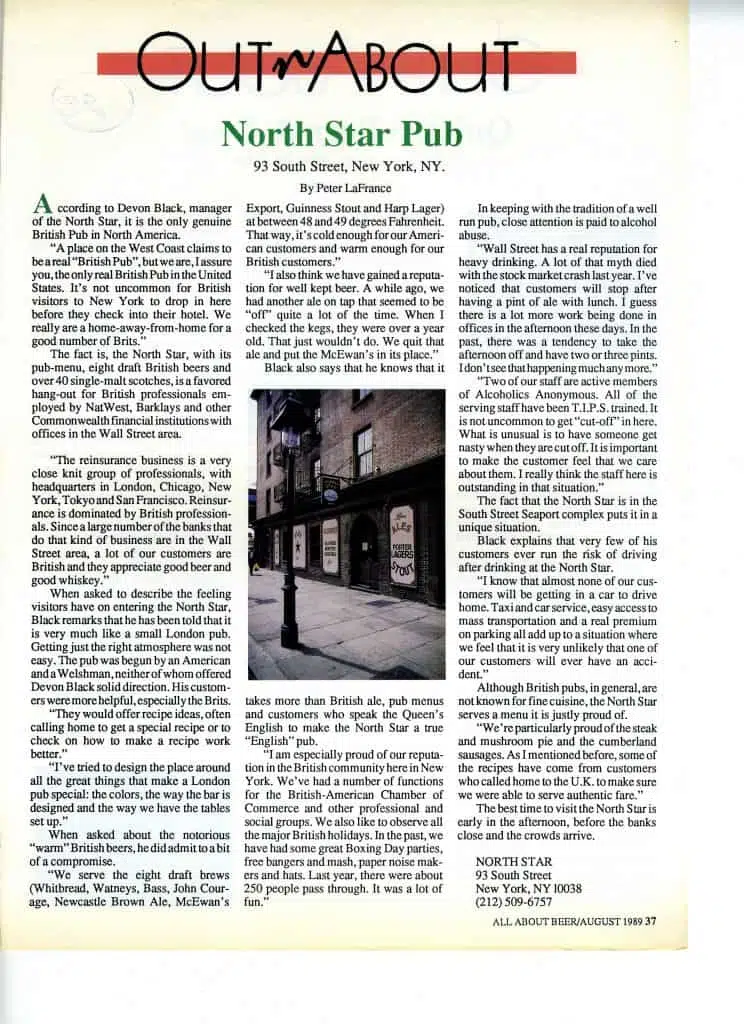 The following is the text of an article I wrote for All About Beer Magazine in the summer of 1989.
Out & About – The North Star Pub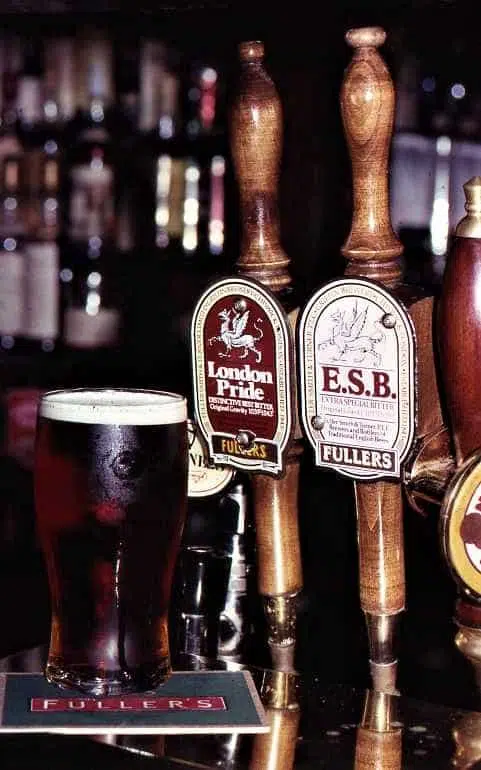 According to Devon Black, the North Star manager, it is the only genuine British pub in North America.
"A place on the West Coast claims to be the authentic British pub. But we are, I assure you, the only authentic British pub in the United States. It's not uncommon for British visitors to New York to drop in here before they check into their hotel. We really are a home away from home for a good number of Brits."
The fact is the North star, with its pub menu eight British draft beers and over 40 single malt Scotch, is a favorite hangout for British professionals employed by NatWest Barclays and other Commonwealth financial institutions with offices in the Wall Street area.
"The reinsurance business is a very close-knit group of professionals with headquarters in London, Chicago, New York, Tokyo, and San Francisco. Reinsurance is dominated by British professionals. Since many of the banks that do that type of business are in the Wall Street area, many of our customers are British. They appreciate good beer and good whiskey."
When asked to describe the feeling visitors have on entering the North star, Black remarks that he has been told that it is very much like a small London pub. Getting just the right amount of atmosphere was not easy; the pub was begun by an American and a Welshman, neither offered Devon Black solid direction. His customers were more helpful, especially the British nationals. They would provide recipe ideas, often calling home to get a particular recipe or to check on how to make a recipe work better.
"I've tried to design the place around all the great things that make a London pub unique: the colors, the way the bar is created, and the way we have the tables set up."
All British Ales
When I asked about the notorious warm British beers, he did admit to a bit of a compromise.
"We serve the eight draft brews Whitbread, Watney's, Bass, John Courage, Newcastle Brown Ale, McEwen's Export, Guinness Stout, and Harp Lager, at between 48 and 49 degrees Fahrenheit. That way, it's cold enough for our American customers and is warm enough for our British customers."
"I also think we have gained a reputation for well kept beer. A while ago, we had another ale on tap that seemed to be off quite a lot of the time. When I checked the kegs, they were over a year old; that just won't do. We quit that ale and put the McEwen's in its place."
Black also says that he knows that it takes more than British ale pub menus and customers who speak the Queen's English to make the North star an authentic English pub.
The North Star Community
"I am incredibly proud of our reputation in the British community here in New York. We've had several functions for the British American chapter Chamber of Commerce and other professional and social groups. We also like to observe all the British Holidays. We have had some great Boxing Day parties, free bangers and mash, crackers, and hats in the past. Last year there were about 250 people passed through. It was a lot of fun."
In keeping with the tradition of a well run pub, close attention is paid to alcohol abuse.
"Wall Street has a reputation for heavy drinking. A lot of that myth died with the stock market crash last year. I've noticed that customers will stop after having a pint of ale with lunch. I guess there is a lot more work being done in offices in the afternoons these days. There was a tendency to take the afternoon off and have two or three pints in the past. I don't see that happening much anymore."
"Two of our staff are active members of Alcoholics Anonymous. All of the serving staff have been T.I.P.S. trained. It is not uncommon to get "cut off" in here. What is unusual is to have someone get nasty when they are cut off. It is essential to make the customer feel that we care about them. I really think the staff here is outstanding in that situation."
The North Star is in the South Street Seaport complex, which puts it in a unique situation. Black explains that very few of his customers ever run the risk of driving after drinking at the North Star.
"I know that almost none of our customers will be getting in a car to drive back home. Taxi and car service, easy access to mass transportation, and a premium on parking all add up to a situation where we feel that it is improbable that one of our customers will ever have an accident."
The Menu
Although British pubs, in general, are not known for fine cuisine, the North Star serves a menu that is justly proud of.
"We're particularly proud of the steak and mushroom pie and the Cumberland sausages. As I mentioned before, some of the recipes have come from customers who called home to the U.K. to make sure we were able to serve authentic fare."
The best time to visit the North Star is early in the afternoon before the banks closed and the crowds arrive.
In Closing
Not long after I wrote the article above, I moved to Downtown Brooklyn. I went to work full-time at the Beverage Media Group. Gradually The North Star fell off my radar.
As I mentioned in the beginning, Devon Black went back into the teaching profession. He died seven years ago as of this writing. Gary (Gaz) Reagan went into the "Bitters" business. There were at least four different flavored bitters in his catalog. He passed away two years ago.
The North Star faltered in the nineties and was bought by the Heartland Brewing Company. Today it is a retail store selling souvenirs of the South Street Seaport.
Today I take the time to remember what was known as New York City's "Real" English Pub.
Cheers!
Peter (The Old Growler) LaFrance