First Things First: The Interview With Steve Miller
Or read the interview here:
Peter: This is The Old Growler, Pete LaFrance, and we're here in Windsor, Vermont at the Harpoon Brewery, and we're going to be talking to Steve Miller. Steve, welcome to The Old Growler!
Steve: Well, welcome to the Windsor Brewery here Peter, glad to have you.
Peter: Super! Ok, would you describe the brewery here?
Steve: This facility, in particular, I really feel like this outdoor space draws a lot of people in, and you know, even in the winter months, we really did a lot of innovation last year, again with the COVID situation, we really tried to develop the outdoor space so that people could be distanced and stay safe and feel comfortable coming. Uh, we added propane fire pits. This last winter, our guests really were not excited about sitting outside and in the cold weather. But believe it or not, people really became more hardy this year, so they were enjoying sitting by a propane fire outside. 
We also built some "warming huts," with seating for six. So a party of six could be sitting inside their own little hut with its table inside, and the servers would bring them their food and beverages. They'd have a little heater just to take the chill off but be in an enclosed space to themselves away from other parties. We had them set up around our outdoor wood-burning fire pit, so you could look through a big window and see the fire burning. It was really a pleasant situation to have the snow falling. People can also arrive here by snowmobile in the winter.
There's a snowmobile access trail from the Vermont Association of Snow Travelers' system. So that you can pretty much travel from anywhere in Vermont on a snowmobile to get here if the conditions permit it. 
Peter:  What do you attribute your survival over the last 16 months here?
Steve: In this, front of the house part of it, it's really been about innovation, creating unique offerings, and trying to make it memorable for the guest and have them feel comfortable and safe given the circumstances we've faced over that period. So like I've said, those things that we added made a big difference. 
We also, right out of the gate, when the COVID restrictions first came to us in March of 2020, at that point, really didn't have an online ordering system set up. We didn't do take-out. We didn't do any sort of delivery. We didn't do a significant amount of take-out. We didn't do a lot of delivery. 
The governor's executive order closed down our on-premise operation completely, so we had to transition quickly. In under a week, both of our facilities were set up for online ordering and delivery setups. You could place your order from your computer or your phone and come here and do curbside pickup. Alternatively, you could go into the facility if your face is covered. You could pick up your own order. 
But we couldn't have people staying here and eating on-premises. So that was really quite an effort by our entire retail team at both facilities to get that set up quickly. It was under a week, and both facilities had those things happening. 
So that's how we survived the short term. 
But then beyond that, again, it was setting up the seating in a way where people were comfortable and safe and making sure that we were following all the sanitation practices. And again, communicating that to the guests so that they were comfortable coming here. And we had a lot of great feedback from people. 
We also did a few fun things. When the toilet paper shortage happened, we offered a roll of toilet paper with your take-out order.  We were able to get some from our suppliers, so we did that as a fun offering. We also held raffles for online ordering. So a lot of innovation happened across the board from all of our retail team. So that really made a big difference for us.
Peter: How much of that is going to stay in place?
Steve: Some of it is, some of it's not. Some of the regulations, you know, the executive orders allowed us to deliver the product to customers, are still evolving. Some of it will stay. 
Online ordering we found helpful, so we will keep that. Curbside is not a problem for us, we can always do that. If a guest gives us a ring and wants us to bring their items out to them, that's really an easy thing for us to do when we're typically staffed.
One of the biggest challenges we face right now is staffing, trying to find workers to come in and help us out. 
Peter: What do you think has been the reason that you are so short-staffed?
Steve: It's a combination of things. Many companies are hiring. Some people are choosing not to go back to work after the past 18 months. They're doing other things. Things are changing. 
Peter: What's down the line now?
Steve: More innovation. We just keep looking at different offerings, new menu items. We're always constantly changing up our beer offerings.
We brew many monthly specials. Each month we come up with a different monthly offering, trying to just keep innovating with the beer line and, of course, our menu. Even our apparel and merchandise, we're constantly changing those things up to keep it fresh. 
We love to have people here at our brewery, so we're trying to do different programming outside. This week we had the Vermont Symphony Orchestra here on Wednesday night, performing outside. That drew a nice little crowd. People really had a good time with that. We've been doing some brunch offerings on Sundays. We have live music at different times, so I would ask people to keep an eye on our website and our social media pages to see what's going on and stay in the know. And always sign up for friends of Harpoon cause then you'll be contacted by us. 
Peter: And how can they do that?
Steve: Go to www.harpoonbrewery.com  or just harpoon.com also, and you can sign up for friends of Harpoon that way. If you like us on Facebook and Instagram, those messages will get out there to you as well. 
Peter: Over the next two weeks, what are you planning to do here?
Steve: We're actually right in that time of year where we'd typically be hosting our barbeque competition. We weren't sure what the status of COVID would be at this time, so we weren't able to set it up for this timeframe, but what we've done is set it up for the weekend after Labor Day. So, on September 11th and 12th, we will be hosting our barbeque festival here at the Windsor brewery. 
Peter: What would you do differently, looking back that you maybe didn't do?
Steve: Um, well, there are some things like the huts that I mentioned here, I would have tried to do that sooner, but again it was like we were looking at all sorts of different things to try and experiment with. Those were an absolute home run, and we did them a little later than I would have if the idea had come up sooner. So that's, you know, we were jumping on things as soon as our teams would come up with different ideas that we thought would be successful. So, we were implementing as fast as we could, but you know that's one of those things that I wish had popped into our heads earlier because of the cold temps.  
You know, starting even late October, early November, that time frame, those huts were really, really popular this winter once we got them established. We built them all ourselves here on site. That was quite a project, again a team collaboration of many people in our facility, both on the retail and production side teamed up and got those things done. So you can, please check them out when we're done here so you can see them. They're beautiful. 
Peter: How would you describe…and I'm going to use a buzzword for this one, but how would you describe the corporate culture here at Harpoon?
Steve: Well, we are an employee-owned company. Everyone pitches in together for the success of the company and to try to do everything that they can to contribute on any level. It's not an "us against them" at any point in this company. We're all on the same page. We're all on the same team. So We all work together, whether it's COVID times or not. That's been the culture here forever. I've been here almost 18 years, and it's been that way since day one. It's one of the things I love the most about this company. 
Peter: How did the close-down last March change or adjust or affect the types of beers you had in developing and developing new beers?
Steve: Immediately, I think it caused us to pause a little bit. It felt like people were going for things they were familiar with and really knew and were comfortable with. Because of the "pantry loading" thing happening where people were buying larger boxes, we saw some of our six-pack sales decline. People were buying more than 12 packs to make one trip to the store and have it in-house and available. So that was an interesting transition that we saw then, and of course, the draft business kind of just went away at the flip of a switch when this all happened. It was right at St. Patrick's Day, and you know what that's like in Boston, so…
Peter: Oh yeah!
Steve: So yeah. Our accounts had loaded up on beer for the St. Patrick's celebration, and that was pretty much canceled. That left us in a lurch a little bit with our draft situation, but that's starting to rebound now, so we're starting to see more places open. People are coming out more and enjoying a draft beer on-premise again. So, it's transitioning back. For example, we're seeing it level back out to more normal numbers of six packs vs. 12 packs. But definitely, people were buying the larger packs and making sure they had it at home. 
But we didn't slow down our experimentation process at all. We were still full steam on looking at different opportunities and trying different beer styles. We have an innovation brewer in this facility in Vermont, and he's constantly experimenting with other recipes and putting them in front of our internal taste panel first. 
Peter: So, uh, this is your pilot brewery than in a way?
Steve: Um, both actually, we will do experimental batches at both facilities. 
Peter: Oh, I see.
Steve: We usually have at least three, a lot of times four different pilot batches that who knows what they may become. Or you know, they may make it through the first batch and be done. If we get really great consumer feedback on them it might…or internal feedback… then it may become a regularly produced beer for us. That's kind of fun for our guests also, especially the regulars that we have, our local following. They get an opportunity to try all these different varieties that a lot of people would miss out on if they're not here on a regular basis. 
Peter: What's the length of a small batch?
Steve: It varies. We have a 10 barrel pilot system at our Boston brewery so we'll generally do a 10 barrel batch there. If our innovation brewer is just trying to do just a small test it'll just be a few kegs worth here on a small system. 
Peter: What are you looking forward to for this Autumn? 
Steve: I'm really looking forward to hosting a festival again. I did mention that, but that's… I can't wait to have the barbeque festival. It's my favorite festival that we do at either facility because we have this gorgeous outdoor space, the teams are a lot of fun, they're great people. 
Peter: Describe the festival, how did…what goes on?
Steve: Normally we have a full-on barbeque competition that's sanctioned by the Kansas City Barbeque Society. We don't have that this year but we will still have the same type of teams coming here. So our guests will be able to sample.
At most competitions the teams don't usually sell their product. They are strictly there to compete and try and win the prize. Here it's different, we've set it up as a consumer event as well. 
You have the true competition happening, but you're also able to buy from these teams that will actually vend to the public. So that's a pretty unique experience here. 
So the teams are not just here to compete, they're here to have a good time with us and our guests and, and share their product. 
We're sharing our, what we consider world class beer, and they're serving world class barbeque to our guests. 
We also have a variety of bands that come and play throughout the event. 
It's a really fun outdoor party that we host here every year. So I can't wait to get back to that, I missed it all last year. I'm really glad that we're able to do it in Boston this weekend. Really excited about that part of it.  Our guests enjoy it as well. 
Peter: And you enjoy it?
Steve: I absolutely do. Maybe you can tell by my enthusiasm!
Peter: (laughs) When you get a barbeque event here, what is your favorite of your beers to have with your barbeque?
Steve: It depends on the barbeque that I'm having at the time. Brisket is by far my favorite. And I would go right for Harpoon IPA to have with that brisket. But we also have ribs, we have pulled pork, and we have a chicken category. So, you know there's a lot of variety there and you have a lot of options to try for the beer as well. I just wish I could have one with it during the event. I have to wait until we're done at the end of the day, but it's a great thing to look forward to at the end of the festival, to have that nice cold beer.
Peter: What is, looking back over the last 16 months, what has been the silver lining to this whole thing?
Steve: Well in general I think just the ability to communicate remotely. The technology that has advanced so much with that has been really helpful for us. That's something that's going to carry forward. It's not a consumer facing thing, but definitely internally, we will utilize the different software that we have available to us to be able to communicate better with our teams. 
I have people that are working at the other facilities, and it's a great way to connect with them without having to travel every time. So, it improved communication. I think that our breweries will be able to embrace that. We improved our camera and audio system at both facilities in our conference rooms so that we can continue to utilize those things going forward. 
As far as retail, consumer facing, some of the things like the take-out ordering, the convenience of that, and you know, embracing the technology that has come out of this whole situation.
 People reacted quickly, not only just our teams here but even our vendors. With the software we use, those companies were all over this as well, trying to help us survive that whole pandemic.
Peter: So, coming out of a pandemic, you actually end up healthier?
Steve: In some ways, yeah… in some ways yeah. 
Peter: What would you say was the downside of this?
Steve: Just the human touch and the contact I think, the…just the greeting people, the… people are afraid to shake hands. There used to be a lot of things like that that just I think less human contact, face to face contact is a bit of a downside. 
I appreciate the convenience of the video technology and the video conference technology, but it doesn't ever replace face to face. 
So, you know, that's one of the things that I think was one of the most challenging throughout that time. Not being able to see people's facial expressions as much with the face coverings. But hopefully we'll get away from that going forward, with people staying vaccinated. 
Peter: Super! Well good luck for the rest of the year, and I'm sure we'll be back to see you again soon.
Steve: Thank you Peter, it's great to have you here.
Next, Let's Visit The Harpoon Brewery:
What are They Up to Today?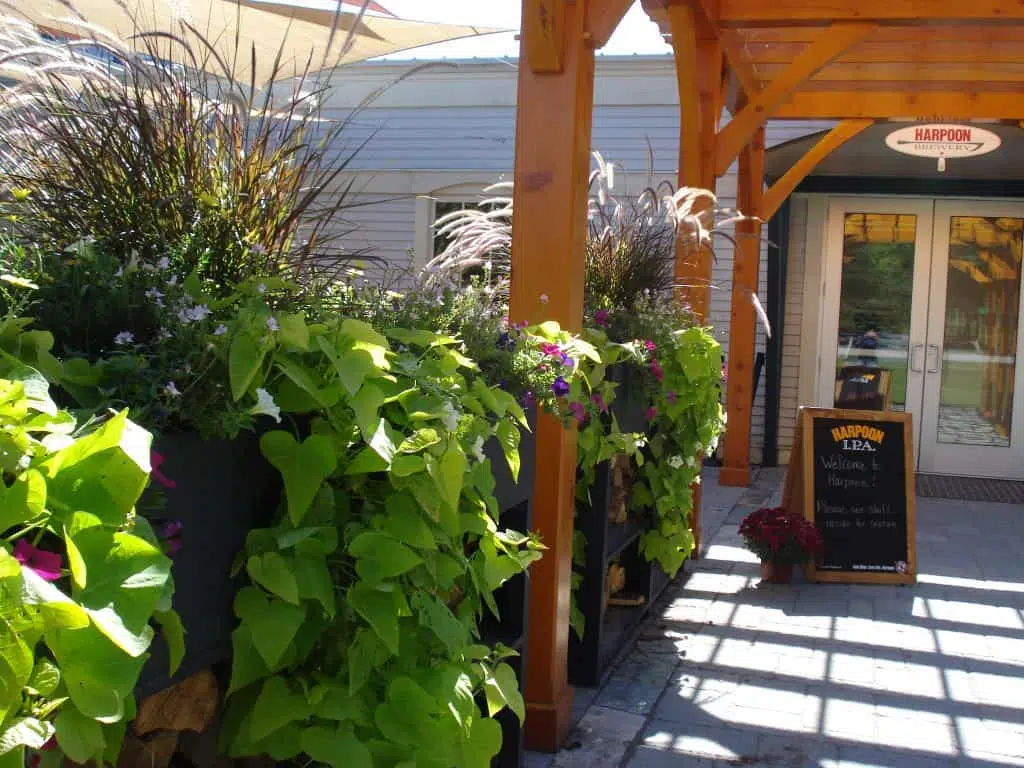 "We are excited to welcome you to the Harpoon Brewery Taproom and Beer Garden in Windsor, VT! We have indoor and expanded outdoor space to enjoy our brewery fresh line up of craft beer, cider, and seltzers and delicious food from the kitchen."
DINE WITH US – OR GET IT TO GO!
"We offer a full lunch and dinner menu of delicious dishes to pair with your pint both in the dining room and in our Beer Garden, including favorites like our handmade brewery pretzels as well as specialty items that rotate with the seasons.  Click here to see today's menu for dine-in."
PATIO SEATING
"There's nothing like enjoying a beer on the patio! We have both covered and sunny seating available. Patio seating can be reserved online by selecting outdoor seating (we will do our best to accommodate sunny or covered seating preferences upon arrival) or by phone: 802-674-5491 X221."
PRIVATE OUTDOOR HUTS
"Looking for a more private experience? We currently have four outdoor huts available by reservation only. We offer full service at each hut – there is a beacon light on the front with a switch inside to let the server know they are needed. We have the regular food and beverage menu available for service! The huts sit six people (are dog friendly!) and are available for 90 minute reservation times to allow for sanitization in between parties."
STATE AND LOCAL MANDATES
"Please help us keep the Harpoon Brewery a fun, pleasant environment for all by following these guidelines and keeping safety top of mind:
If you are not fully vaccinated, we ask that you continue to wear a mask when not seated at your table. Our fully vaccinated employees are no longer required to wear a mask. However, some employees may continue to do so for personal reasons. We recognize that people have different comfort levels with mask-wearing, and we ask that you be respectful of whether someone chooses to mask up or not. Practice good hygiene and wash your hands. Most importantly, if you are sick, please stay home!"
DIRECTIONS & PARKING
The Harpoon Brewery Taproom and Beer Garden are located at 336 Ruth Carney Drive, just off Route 5 in Windsor, VT. The brewery has ample free parking!
CONTACT INFORMATION:
802-674-5491
336 Ruth Carney Drive
Windsor, VT 05089
A Sampling of Beers Brewed at Harpoon Windsor:
Harpoon Team MEW-S-A Citrus IPA
Harpoon Hazy IPA
Catamount IPA