This year the old growler searched the web and many beer-focused publications and came up with a six-pack of beers that seem to be on everyone's list of seasonal picks.
As you can see, they are arranged in order of my preference, with information from the brewery followed by my tastings as posted on YouTube.
Enjoy these brews and the video/virtual tastings and have a happy and safe holiday season!
#1 Tröegs Mad Elf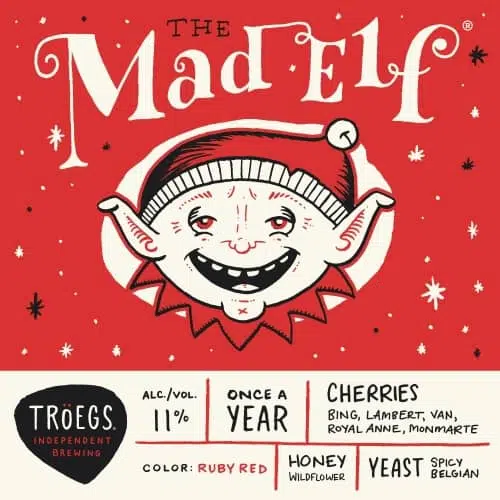 Tröegs Mad Elf 11.0% ABV
From their website…
"The Holidays at TRÖEGS start with our inner Mad Elf momentarily taking over the brew deck. So, blame "him" for this cheerful ruby red creation reminiscent of ripened cherries, raw honey and cocoa with notes of cinnamon, clove and allspice."
"Food Notes"
"Beer and food. They're better together. Here at Tröegs, we've thought long and hard about not just what foods pair with our beers, but why. We're not out to tell you what to eat, but to inspire you to create pairings that perfectly suit your own palate."
"COMPLEMENTARY"
"Glazed Ham, Fennel, Cherries, Pears, Marshmallow Yams, Dates, Figs."
"CONTRASTING"
"Pine Nuts, Aged Cheddar, Coconut, Rosemary, Roasted Chestnuts, "
"ADVERSE"
"Salmon, Peanuts, Cayenne, Peppermint, Broccoli"
#2 Sierra Nevada Celebration Ale 2020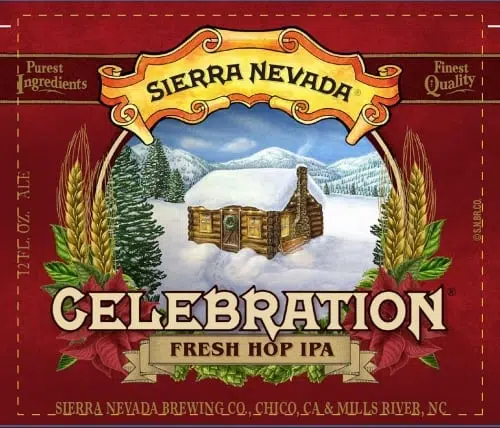 From the Sierra Nevada website…
Sierra Nevada Celebration Ale 2020 6.8% ABV
"CELEBRATION ALE"
"While other holiday beers go heavy on spice and sweetness, Celebration wields fresh hops—the first harvests of the season—toward its complex and cabin-cozy notes of pine, citrus, and malty caramel. A wintertime classic since 1981, and your new tradition starting now."
#3 Anchor's Our Christmas Ale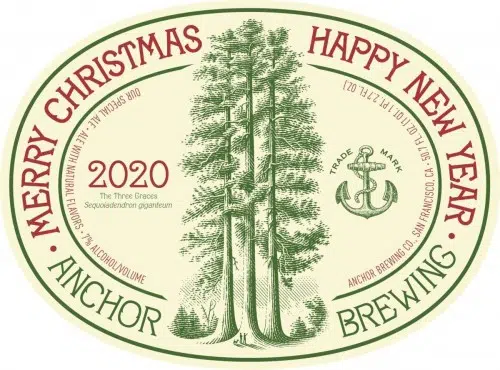 According to the Anchor Brewing Co. website…
"The 2020 Anchor Christmas Ale is a one-of-a-kind, featuring the highest ABV at 7% and darkest appearance of any vintage. Yet, this year's release is easy-drinking and approachable for everyone at a holiday gathering or virtual event."
"Our annual Christmas Ale is a subtly spiced and sumptuously smooth winter warmer. This year's brew marks the 46th annual release of this Anchor holiday tradition."
"Back in 1975, Anchor released the first holiday beer in America since Prohibition. Year after year, Anchor creates a new, secret recipe with a unique hand drawn label for their Christmas Ale, but the intent with each brew remains the same: joy for the changing seasons and celebration of the newness of life. With a heavily guarded, confidential recipe, Christmas Ale is sold only from early November to mid-January. The 2020 Anchor Christmas Ale is a one-of-a-kind, featuring the highest ABV at 7% and darkest appearance of any vintage. Yet, this year's release is easy-drinking and approachable for everyone at a holiday gathering or virtual event."
"Anchor's 2020 Christmas Ale is silky-smooth and layered with classic holiday flavors of chocolate, toasted marshmallows and graham crackers – perfect for enjoying at the end of the meal, or around a fire with close friends. This winter warmer teems with aromas of fresh coffee and dark chocolate, and pours with a tight, creamy cappuccino-colored head."
"Each year a new symbolic hand-drawn tree is chosen for the Christmas Ale label. This year's label features The Three Graces; three iconic towering sequoias from the Mariposa Grove in California's Yosemite National Park. This is only the second time in its 46-year history that multiple trees are shown together on the label, a fitting statement to symbolize togetherness and hope in a year when so much time has been spent apart. The Three Graces represent radiance, joy, and flowering – characteristics that we can all hold near during this unprecedented time."
#4 Harpoon Winter Warmer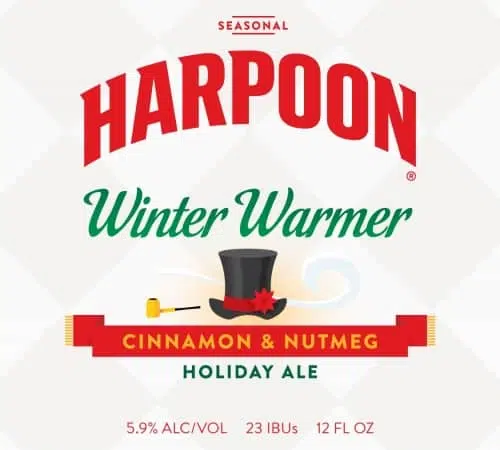 The Harpoon Brewing Co. website tells us this about their Winter Warmer…
Winter Warmer
ALC/VOL: 5.9%
IBU: 23
"Cinnamon and nutmeg in a beer. When we first introduced this beer, let's just say that people weren't exactly sure what to make of it. But after close to three decades of brewing this classic, there is no greater fervor for any of our seasonal beers than this one right here. Bring on the spice!"
"Brewed since 1988, this beer has become a New England seasonal classic.  Cinnamon and nutmeg dominate the aroma.  The taste is a rich combination of the holiday spices and the hearty malt backbone.  There is a mild sweetness to the finish along with the lingering flavor of the spices."
Tasting Notes:
Appearance: Dark copper in color
Aroma: Cinnamon and nutmeg
Mouth feel: Medium-bodied
Taste: Sweetness of the malt and spice are balanced by bittering hops
Finish: Blend of cinnamon and nutmeg
Specialty Ingredients: Cinnamon and Nutmeg
#5 Tröegs Double Blizzard IPA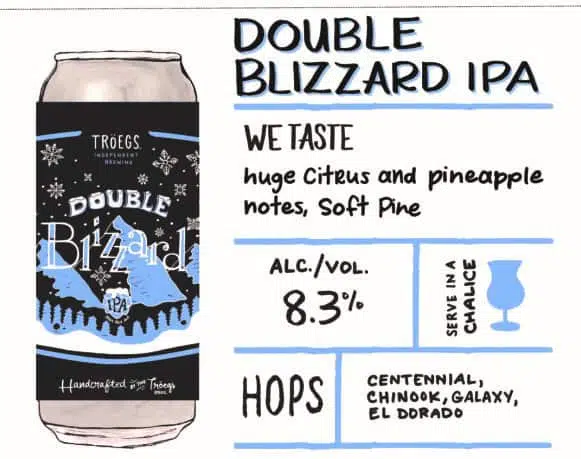 The folks at the Tröegs website tell us this about Double Blizzard…
Double Blizzard
Brewed Once a Year
8.3% ABV
NA IBU
Malt: Pilsner, Unmalted Wheat, White Wheat
Hops: Centennial, Chinook, El Dorado, Galaxy
Yeast: House Ale
"This is Blizzard of Hops … turned up to 11. For Double Blizzard, we used a cooler temperature for the kettle hop additions, softening the character of the Centennial, Chinook and El Dorado. On the cold side, we dry-hopped with four pounds per barrel of Chinook and Galaxy. At 8.3% ABV, we're into semi-hazy Double IPA territory, and we like it here."
"We taste: huge citrus and pineapple notes, soft pine"
#6 Delirium Noel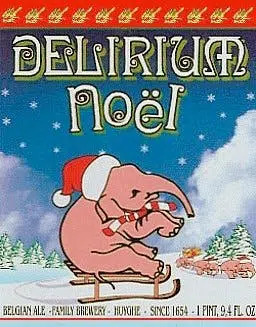 From the folks at BelgianStyleAles.com we learn…
"Once banned in the US because the provocative title of this line of ales was thought to encourage overindulgence (the pink elephant logo on the label probably did very little to curb the argument), Delirium Noel from the Huyghe Brewery is a seasonal Belgian Strong Ale that pours dark red with a foamy beige head."
"Top fermented and bottle conditioned, the brew boasts potent aromas of dark fruit, apricot, caramel malt, sweet cherry, cinnamon and clove with notes of vanilla, apple, banana and yeast."
"Taste is similar to aroma and also includes toffee, plum, and red wine with notes of pepper and bitter hops."
"The mouthfeel is medium bodied and creamy smooth thanks to generous and lively carbonation; the 10.0% ABV is well hidden, and the finish is lingering, spicy, and dry."
"Food Pairings"
"Pair with beef, hamburger, barbecue, hearty winter soups, stews or chili, or serve to complement almost any sharp cheese."
Final Thoughts
I had a lot of fun researching this six-pack but I must admit that I have had a bias towards The Anchor Special Ale for years, as I mentioned in the video. I was, however, impressed with the Tröegs Mad Elf and the Delirium Noel. I wish I had the opportunity to have sampled the Deschutes Jubelale and the Bell's Old Fashioned.
And, honorable mention goes to Samuel Smith Winter Welcome posted below…
Samuel Smith Winter Welcome