The "Lite" beer world began when a television advertisement featured two just slightly over-the-hill athletes arguing whether the same beer was full of flavor or "less filling." Where did the idea for a "light" beer come from? Why would anyone care, or even notice, if the beer was "filling"? Is "Light" beer simply a water-thin shadow of "real" beer? Why should "real" beer drinkers even consider sipping a "light"? Is the category more than just a list-filler? Now that summer is here, should you care?
Let me tell you the story of Lite Beer…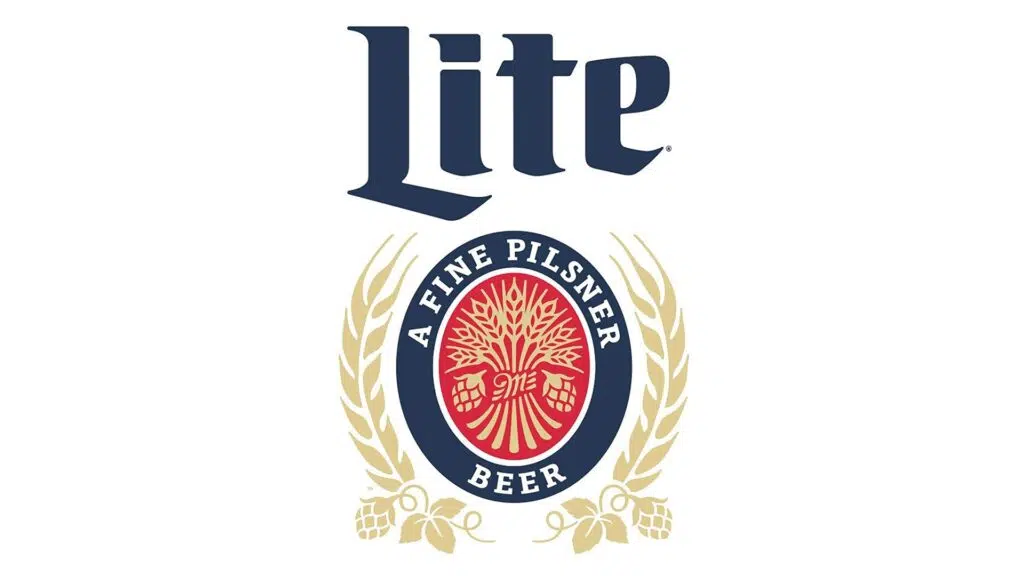 In 1972 Miller bought rights to the Meister Brau line of products, including one called Lite Beer. Although Lite Beer costs less to produce than regular beers, the Miller Brewing Company positioned it as a premium beer.
          The formula for Lite™  Beer continued to prove a winner, mainly because of widespread, aggressive marketing. Miller's goal was to convince the public that the low-calorie beer was as suited for men as for women.
Miller broke ground in the brewing industry by developing a low-calorie/low-carbohydrate beer and made it a national bestseller. Here is the story of how that was done.
The Birth of Miller Lite™.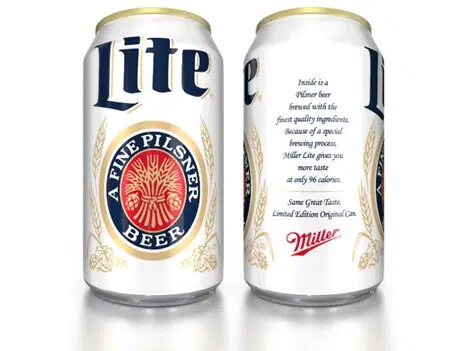 In 1973 Miller's advertising agency, McCann-Erickson, was given the Lite™  Beer account. Bob Lenz was the creative group head in charge of the account. He did the usual brand research and found that, for some reason, the beer drinkers of Anderson, Indiana, were head-over-heels in love with this " Lite™ " beer.
This friendly town in the heartland of America had taken "Lite" to its heart. Men, women, lawyers, anyone who drank beer in Anderson drank "Lite" beer. All Lenz had to do was figure out how to convince the rest of America to love low-calorie beer, too.
The first piece of the puzzle fell into place while Lenz was riding a bus in New York City. He glanced up at an advertisement for the fledgling New York Off-Track Betting business. The smiling countenance of ex-New York Jet Matt Snell smiled back at him. Lenz had worked with Snell before, so he signed him up as the new "Lite" spokesman with a little convincing.
That first television ad was a classic….you remember it! Lovable Matt Snell is sitting in a comfortable-looking bar (actually Joe Allen's in New York City) with the graphic "Matt Snell Super Bowl Hero" plastered at the bottom of the screen. There is a massive pile of Lite beer cans on the table. Snell begins… "You know, new Lite Beer from Miller is all you ever wanted in a beer…and less." Snell then held up a bottle of Lite and told you that it was not only low in calories but also low in carbohydrates! (A big topic at that time.) Finally, as the camera pans back to reveal the pile of beer cans, Snell offered the following (as the FCC required); "Oh, I'm not saying I drank all this beer myself. I had some help from my friends.!" Then came the punch line. "At six foot three, two-thirty, there's a lot of me to fill." That started an advertising campaign that turned Miller Lite™ into a national institution and created the "light beer" revolution.
The Charge of the Light/Lite™ Brigade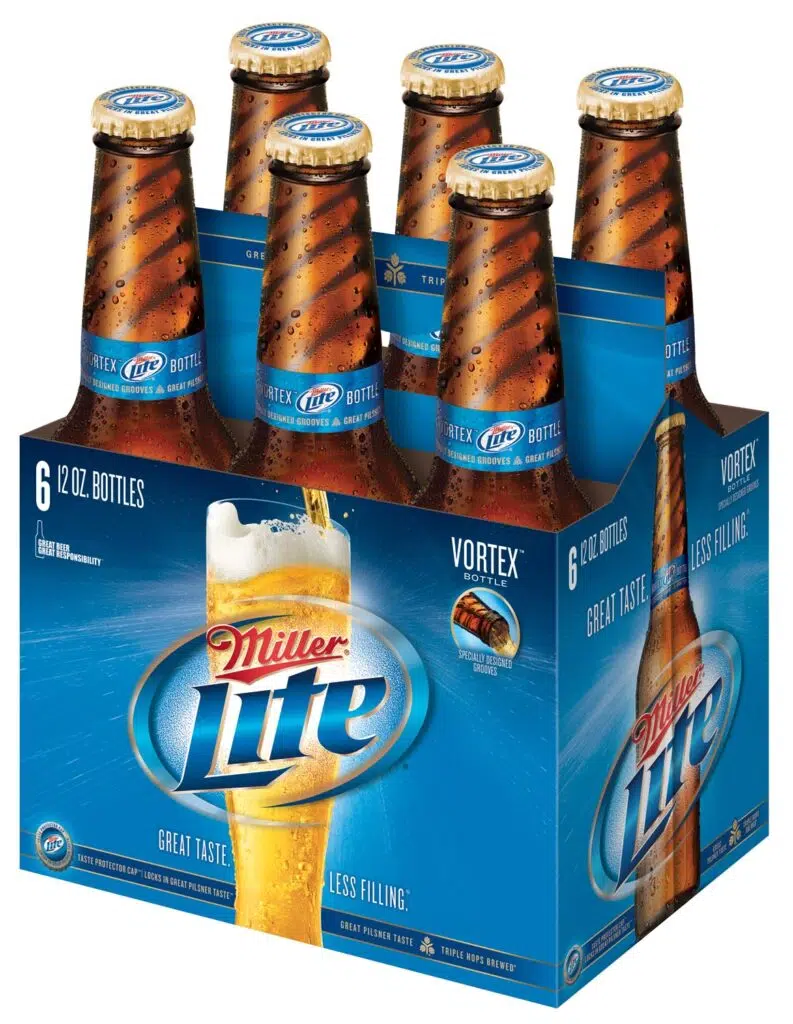 Since the introduction of the first Lite™ brew, the growth in that market segment has been dramatic and almost universal. Today more than half of the microbrewery/brewpub producers have a "light" brew available. This is only a partial list of micro-lights: Abita Light can be found in LA, Leinie's Amber Light is a mid-west favorite, Stevens Point Honey Light and Point Premier Light are in the Wisconsin market, and there is a growing market for the Pennsylvania brand Yuengling Premium Light. Texas is covered by Shiner Light and Lone Star Light. Florida can boast of its Ybor Gold Light. Almost any state can offer at least one locally brewed "light" for the summer.
On the other hand, SAB Miller, one of the top mega-brewers, continues to test-market a "Brewers Collection" line extension to the original Lite™ product line (Miller Lite™  Amber, Miller Lite™  Wheat, Miller Lite™  Blond Ale).
Three reasons to join the Light Brigade this summer:
Summer is The Season: There is seasonal demand for these beers, and all the significant producers are running summer-themed promotions. Casual establishments should be able to profit from the use of branded plastic glasses and other colorful on-premise promotional material. Less casual restaurants and establishments should take the opportunity to explore the following reason to make a big thing out of Light/Lite™ beers.
Refreshing Mixers: These beers make excellent fruit refresher drinks when served in tall glasses, plastic flutes on the patio, fresh fruit juice, and a dash of fruit syrup. These beers are ideal for adding a touch of sparkle to frozen and semi-frozen summertime "smoothie" drinks. The low alcohol content makes these drink ideas especially important for suburban and exurban establishments that depend on customers depending on automotive transportation.
In the Kitchen: Steaming mussels and clams in these beers means you don't have to make allowances for "hop-bite" (when the hops jump out when cooked down only minimally). Before serving, add a few ounces of light beer to chilled summer fruit soups for added tang and effervescence. These brews add body to most fish stews and summer garden vegetable soups without a bite.
"Regular" v. Light/Lite™ versions of the same brand.
When the few examples below are taken in context, there is very little difference between light and "regular" beer. However, consumer interest in consuming fewer quantities of alcohol can be one reason for the popularity of these brews. I have included the statistics for Guinness stout for perspective.
The Battle of The Lites
| | | | | |
| --- | --- | --- | --- | --- |
| | | ABV | cal. | carbs |
| Guinness Extra Stout | (Ireland) | 4.27% | 153 | 17.4g |
| Budweiser                        | Budweiser          | 5.0% | 145 | 10.6g |
| Bud Light | Budweiser | 4.2% | 110 | 06.6g |
| | | -0.8% | -35 | -04.0 |
| Busch Beer | Anheuser Busch | 4.6% | 133 | 10.2g |
| Busch Light | Anheuser Busch | 4.1% | 95 | 7.0g |
| | | -0.5% | -38 | -04.0 |
| Coors | MillerCoors | 4.91% | 149 | 12.2g |
| Coors Light | MillerCoors | 4.15% | 104 | 5.3g |
| (LOST MOST ALCOHOL) | | -0.86% | -45 | -06.9 |
| Icehouse | MillerCoors | 5.50% | 132 | 8.7g |
| Icehouse Light | MillerCoors | 4.13% | 103 | 5.5g |
| | | -1.37% | -29 | -03.2g |
| Hamm's Beer | MillerCoors | 4.7% | 144 | 12.1g |
| Hamm's Special Light | MillerCoors | 3.9% | 110 | 8.3g |
| | | -0.8% | -34 | -03.8 |
| Keystone Premium | Adolph Coors | 4.43% | 111 | 5.8g |
| Keystone Light | Adolph Coors | 4.13% | 103 | 5.0g |
| | | -0.30% | -7 | -0.8g |
| (TIED FOR LOWEST CALORIES) | | | | |
| Leinenkugel Original | Leinenkugel | 4.67% | 152  | 13.9g |
| Leinenkugel Light | Leinenkugel | 4.19% | 105 | 5.7g |
| | | -0.48% | -47 | -08.2 |
| (LOWEST CARBS) | | | | |
| Miller Genuine Draft | MillerCoors | 4.7% | 143 | 13.1g |
| Miller Lite | MillerCoors | 4.2% | 96 | 3.2g |
| | | -0.5% | -47 | -09.9 |
| Michelob Beer | Anheuser Busch | 5.0% | 155 | 13.3g |
| Michelob Light | Anheuser Busch | 4.3% | 113 | 6.7g |
| | | -0.7% | -42 | -06.6 |
Source: https://www.beer100.com/beer-calories/
The First Matt Snell Miller Lite™ TV Commercial (Joe Allen's in New York City)
Exclusive Interview with Ms. Miller Lite™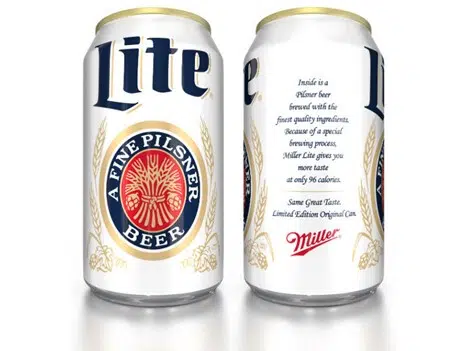 For those who would like to know more about Miller Lite™, the following link will take you to this Exclusive Interview! My chat with a can of original Miller Lite™ … / https://theoldgrowler.com/beer-history/my-interview-with-the-original-miller-lite-beer-can/